I ordered my first
Glamabox
and it arrived two days ago. Delayed the review for a while for I have to experience the products first before I share with you girls! :)
The box was sent in registered mail, so I wouldn't worry about loss of my box. The products were packed in a pretty box inside a pretty box. As the pictures below show the two boxes. ^_^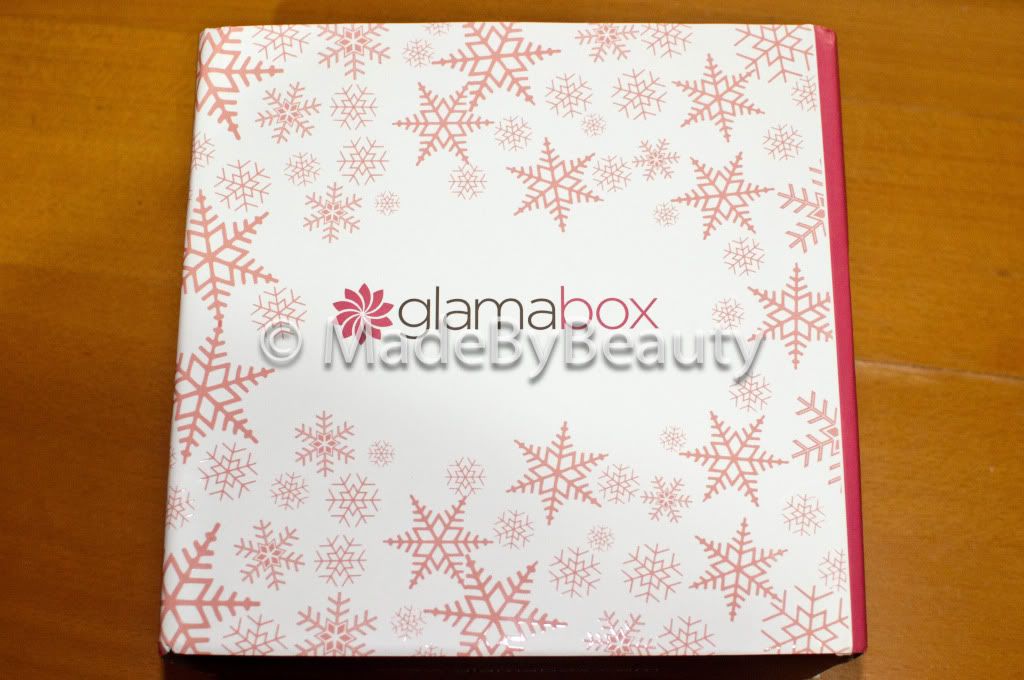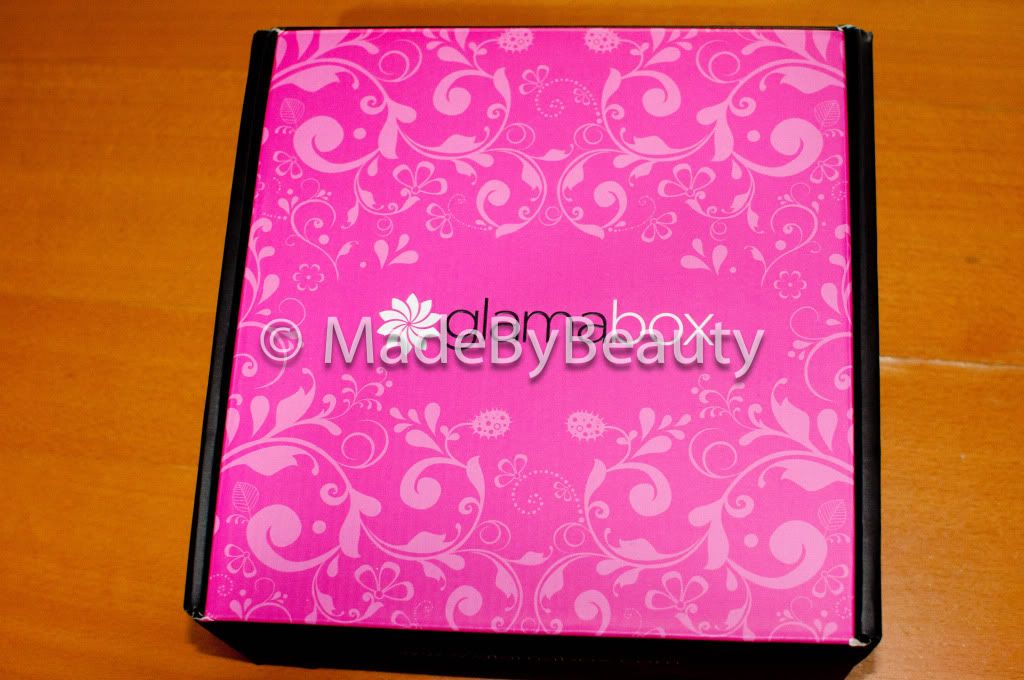 Everything about it just feels special with the ribbons and Christmas snow (as this supposed to be a Christmas special edition)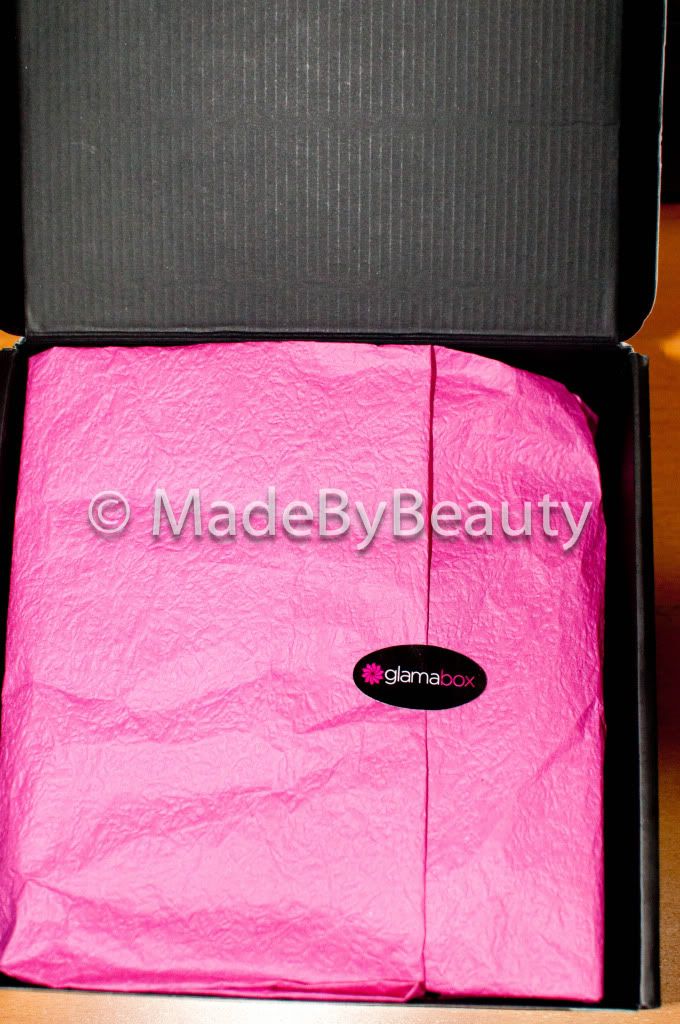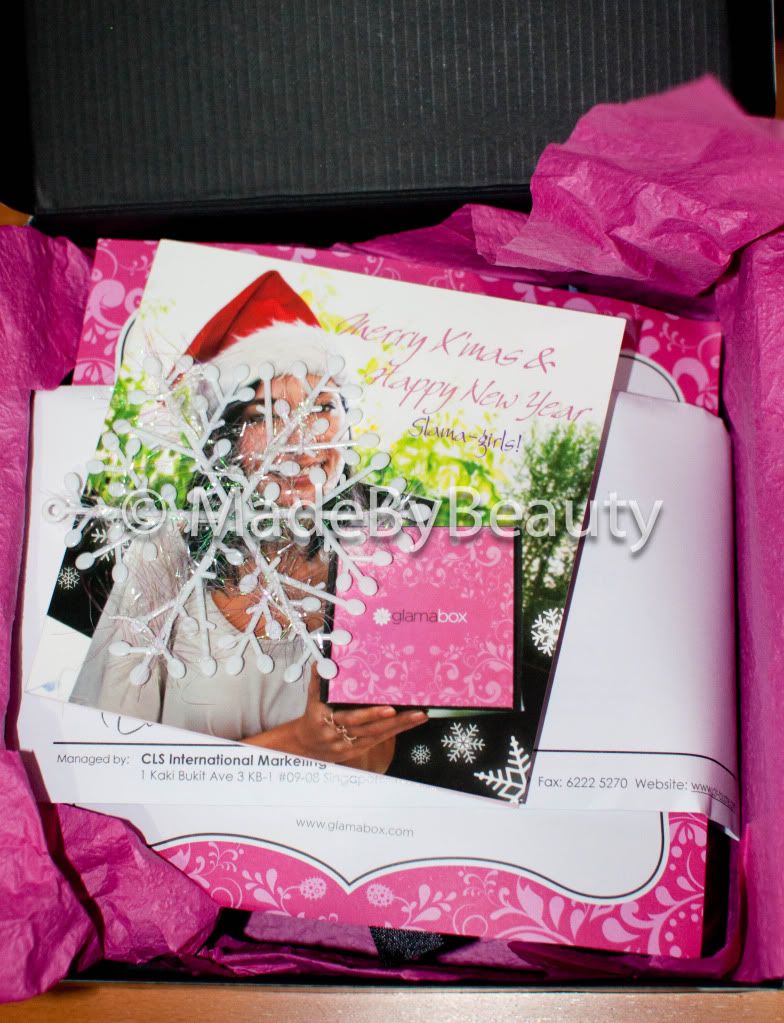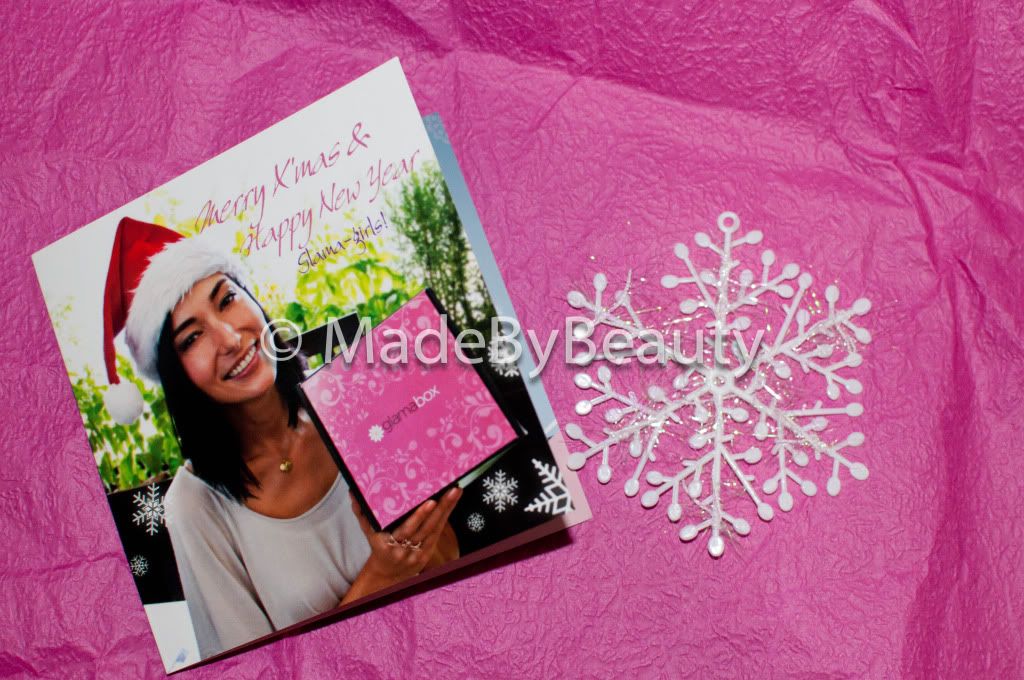 There are also cards sent by the team and description of the contents. If you read through the post you'll find that one of the products in the list is actually missing from the box! The bio-essence stuff was not here and replaced with Thann body milk. I have no issue with it as I happen to be a Thann lover so I would consider this a sweet mistake. But I hope this didn't happen to all of the boxes as not everyone loves Thann right?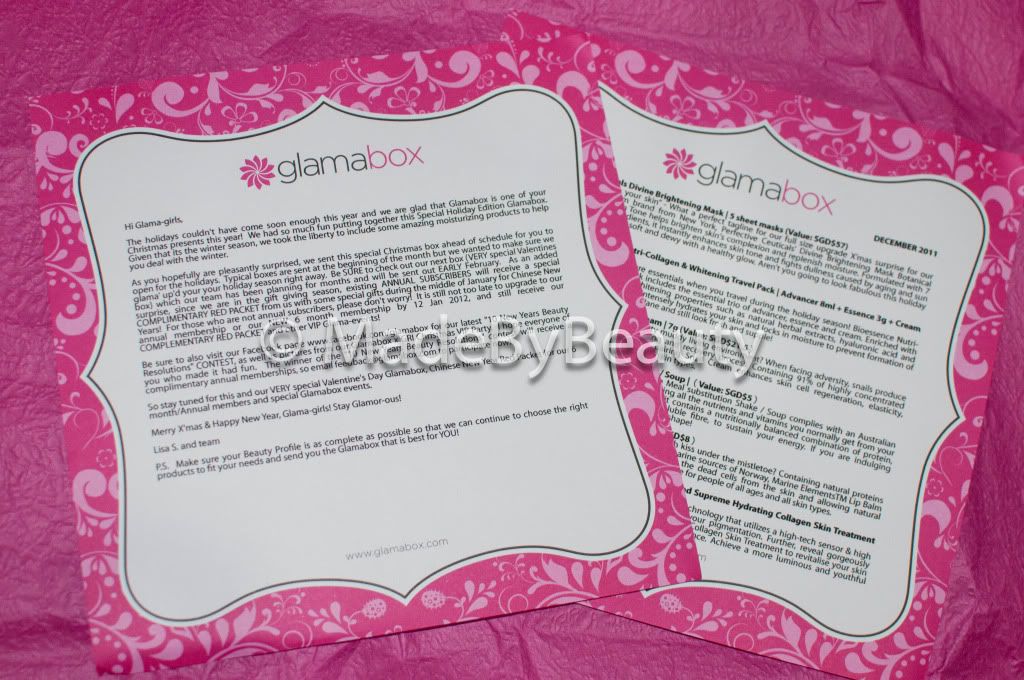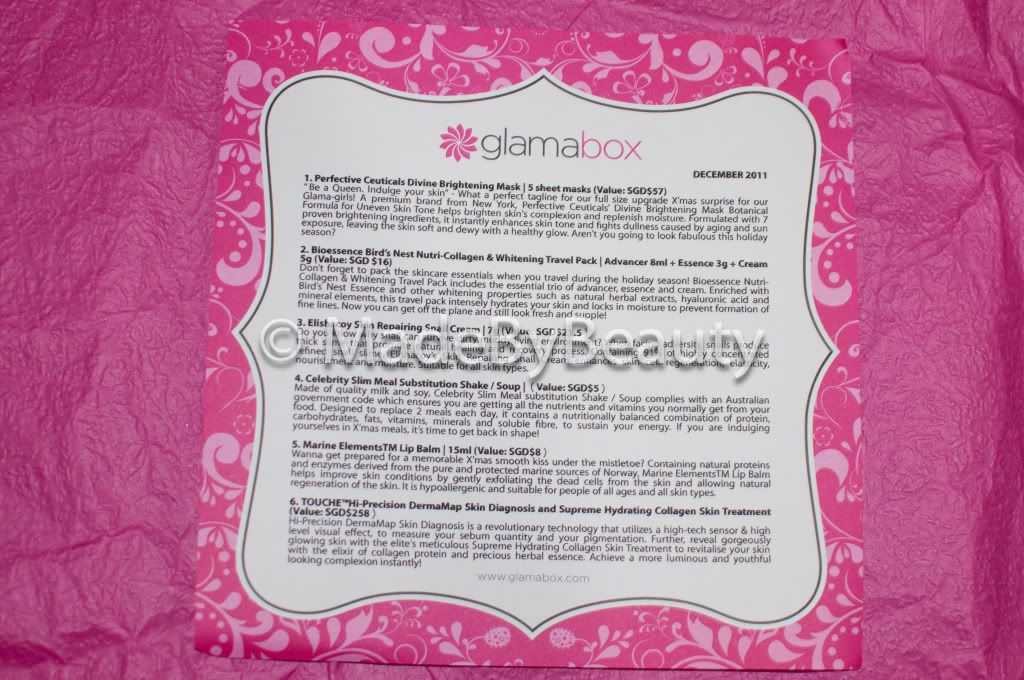 This is a group photo of everything I got. Totally worth the $18 I paid. Actually it is so worth it that I decided to upgrade my membership from monthly to annual subscription - there's no way to do it online though, so I sent an email to the team and eagerly waiting for their reply.
So... the products -
1. Perfective Ceuticals Divine Brightening Mask | 5 sheet masks (Value: SGD57)
It's a US brand that i merely heard of. Did some research of it after I received the masks and found that it used botanical formula. It was great that i know what most of the ingredients are - water, aloe leaf juice, mulberry root extract, grape extract etc. The direction says that I need to have it on my face for 30 mins, but in my dry air-con room it only lasted my for no more that 20 mins. It stays in place on my face very well so I don't need to lay down on my bed for the whole period which is a plus as I can continue with my other before-bed routines. I loved the smell, but I haven't noticed any changes on my skin tone yet after 1 use. I will continue to use them and will share with you girls if I notice any improvement with my skin tone.
2. Thann Aromatic Wood Rice Extract Body Milk | 60ml (Value: SGD 13)
I love Thann as I love all Thai luxury spa products. Thann has several lines and as I know the main difference is fragrance/flavors only. Aromatic Wood happens to be my favorite flavor, and I'm sure now you girls understand why I'm so happy of receiving this instead of Bio-essence stuff! :)
The body milk is a bit thick and oily when you first apply. But it nicely moisturizes my skin after massage in, and left with softer, more moisturized skin. When I tested on my hand, the moisture increased from 28% to 49% after massage in, and left with 39% in two hours work. Which is quite satisfactory as I work in a cool air-con room. Didn't take photo of my moisture meter as I was in office, will make it up if I have chance later.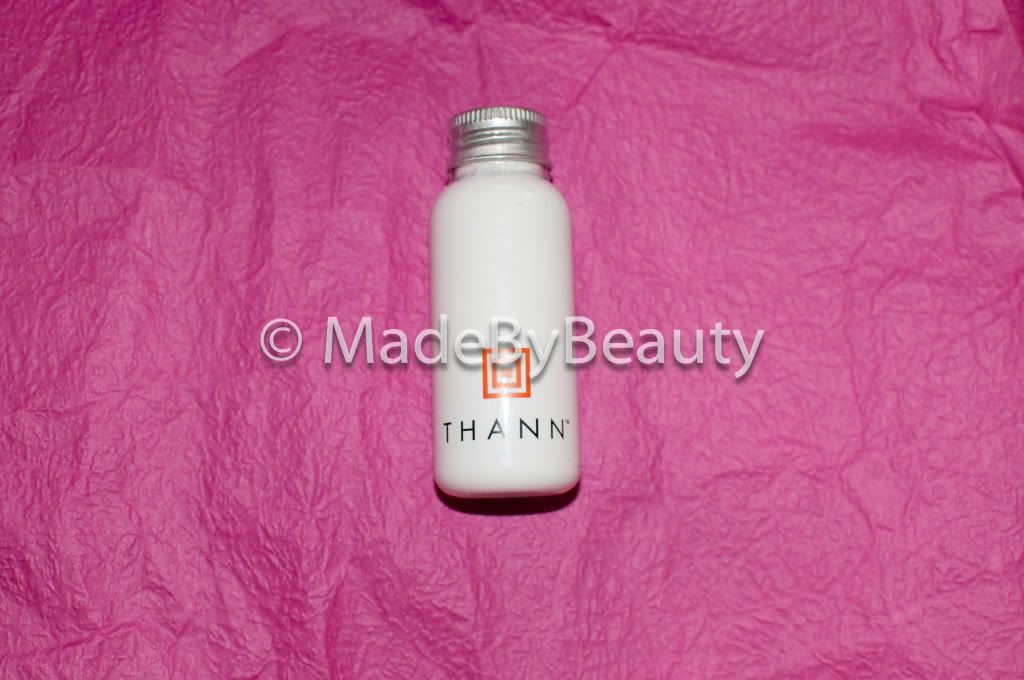 3. Elishacoy Skin Repairing Snail Cream | 7g (Value SGD26)
The concept of Snail has been quite in fashion these few days, originated from Korea. Elishacoy is a one of them. It has 91% of snail extracts (what is it?!) that says can boost skin resilience and flexibility and forms a healthy moisture barrier of the skin. The texture of the cream was so watery that I would love to call it emulsion, which also means that it spreads and absorbs easily, with a matte finish. In terms of effects, I don't see any, yet, after two days' use. All in all I don't believe in this 'Snail' thingy and am not expecting any noticeable result. Will report again though if I notice any improvement of my skin in a few more use.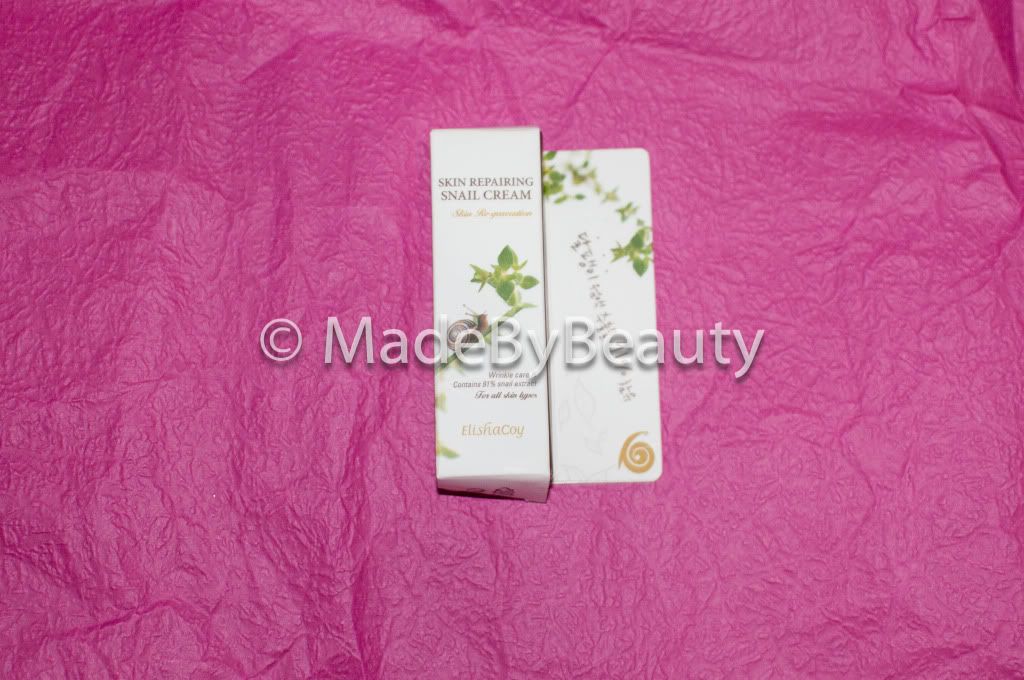 4. Marine Elements Lip Balm | 15ml (Value SGD8)
I have never heard of this brand before and even google doesn't. The official website listed on the packaging was down, which didn't surprise me. The tube was cute, with a lipstick-alike applicator. I love this as it doesn't require a 2nd pollution with finger tip application does (like Kiehl's lip balm). But that is the only thing I could rave about the product. I hate the smell - so artificial, I hate the texture - so thick and oily that hardly blend in after massage, and I hate most the fine lines appeared on my hand after merely half an hour of application on it - yes I didn't even dare to use it on my lip which proves to be a wise decision. I would strongly suggest you girls to avoid using it as well...
5. Celebrity Slim Meal Substitution Shake / Soup | 55g (Value SGD5)
I didn't try it as it was made of milk and soy - I hate milk... Would give it to my friend who is a slimming product junkie. Nice gift. :)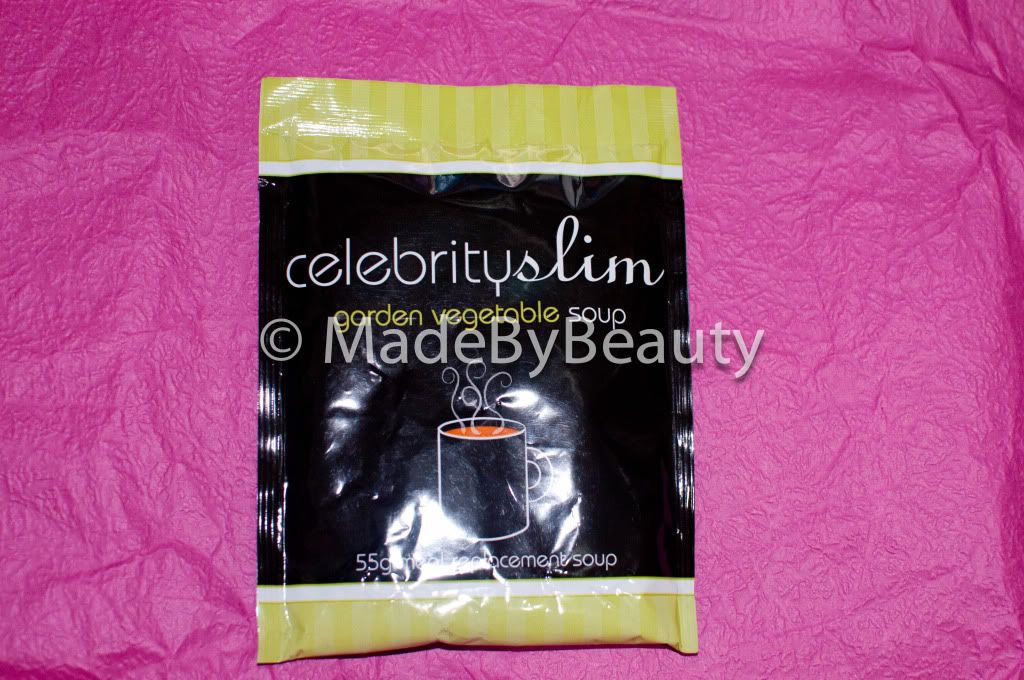 6. TOUCHE Hi-Precision DermaMap Skin Diagnosis and Supreme Hydrating Collagen Skin Treatment (Value SGD258)
Not yet been to my facial treatment yet but I would love to try a good facial at Orchard Hotel. No one would presume it to be a bad one right? =p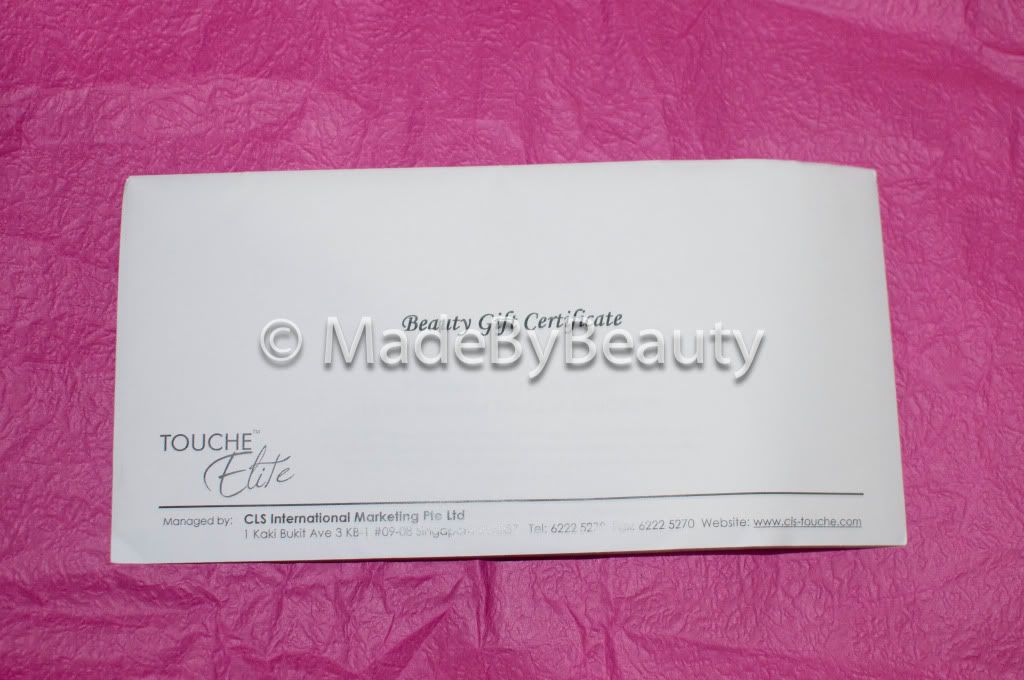 So, all in all... I love the box, though I wouldn't use all of them. But, I would have never gone out to buy those not so famous brand of products that I am gonna go have a look now. Yes it has made my day, I like the surprise and now I'm in! Bring on next year!