Time to review my January
BellaBox
=)
I purchased my membership last November but only starts to receive my boxes starting this year (that's a long wait). Luckily I got it just in time for CNY holidays on Jan 13, and used the products for a while (you could tell =p) before doing this review. Coz I'm trying to make my words more informative and useful. (Hope so =p)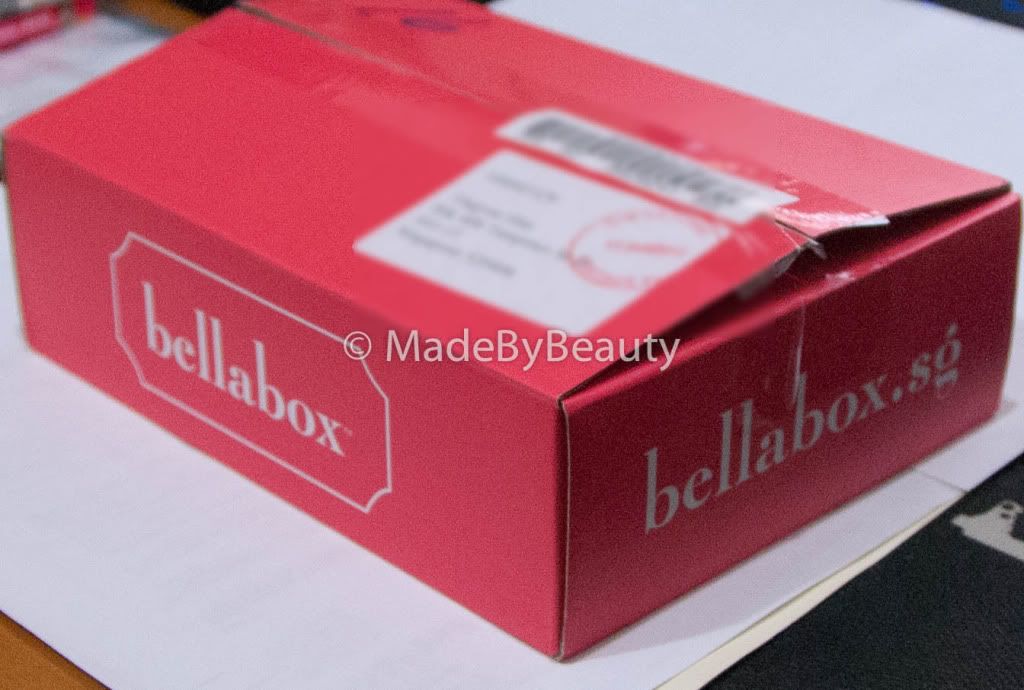 Same as December
Glamabox
, it came to me by Registered Mail. Boxed with BellaBox label, the pink box looks quite cute for girls like me =)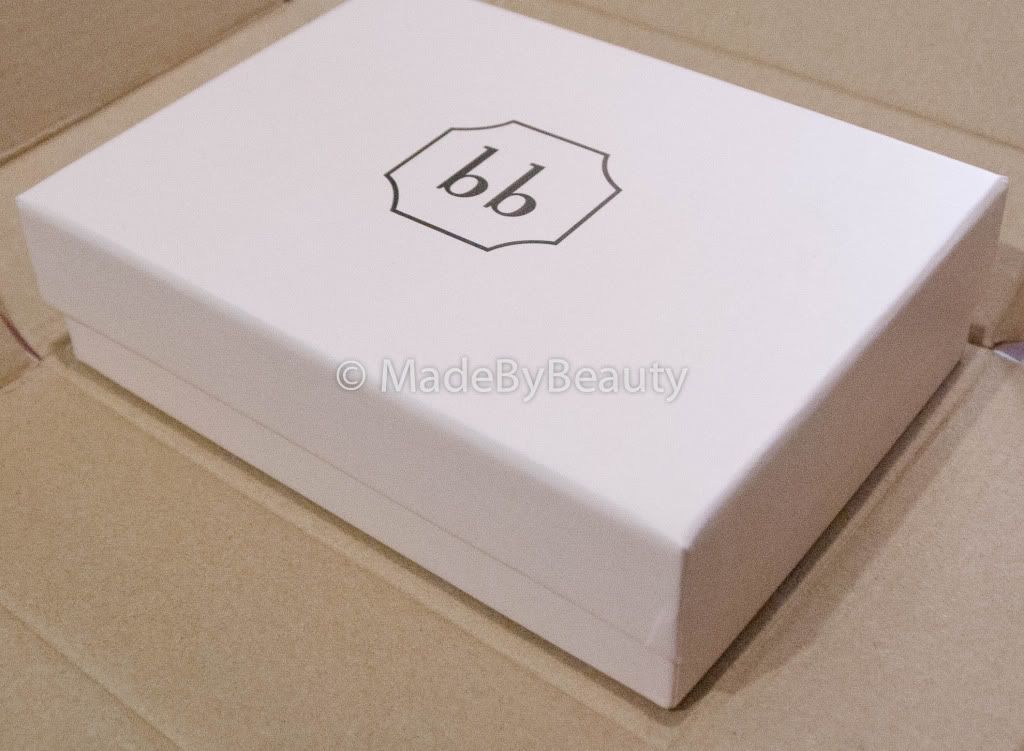 BellaBox said they have changed the packaging. I haven't receive any from last year, (heard that last year's boxes were only sent to press and bloggers). But this lite pink box is good enough for re-use as jewelry/makeup/skincare storage.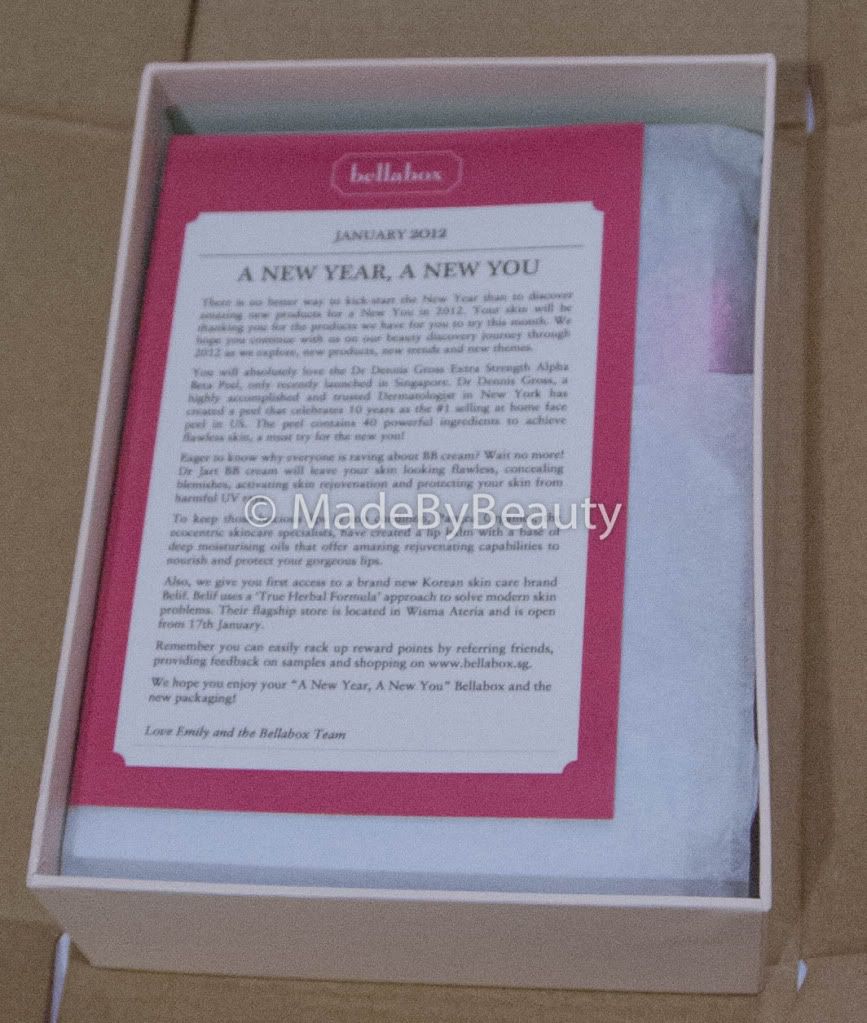 Guess this is standard across all the beauty boxes - A pink toned content list and thank-you note. One thing particularly appealing to me is that all the products can be purchased from
Bellabox.sg
. No need to search around if you love the products =p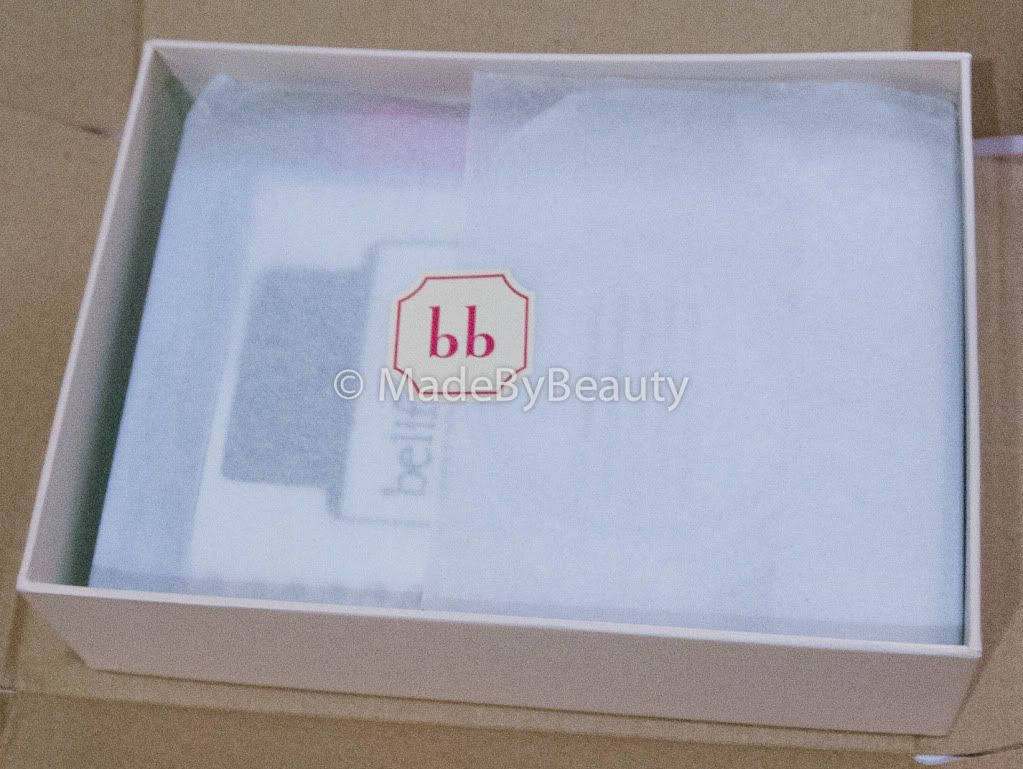 Seems another standard thingy - cellophane wrapping. Looks more classy =)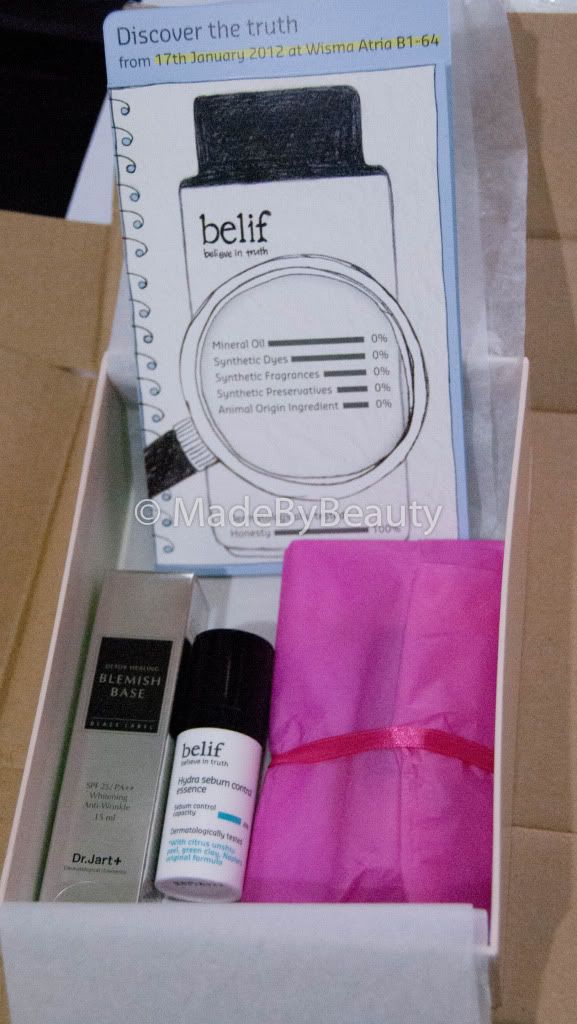 This is how the products look like in the box. A small booklet introducing a new Korean brand Belif. A deluxe sample each from Dr Jart and Belif. A packette sample each from Dr Dennis Gross and Herban Essentials together with a full size lip balm from Pangea Organics wrapped by (another!) pink paper.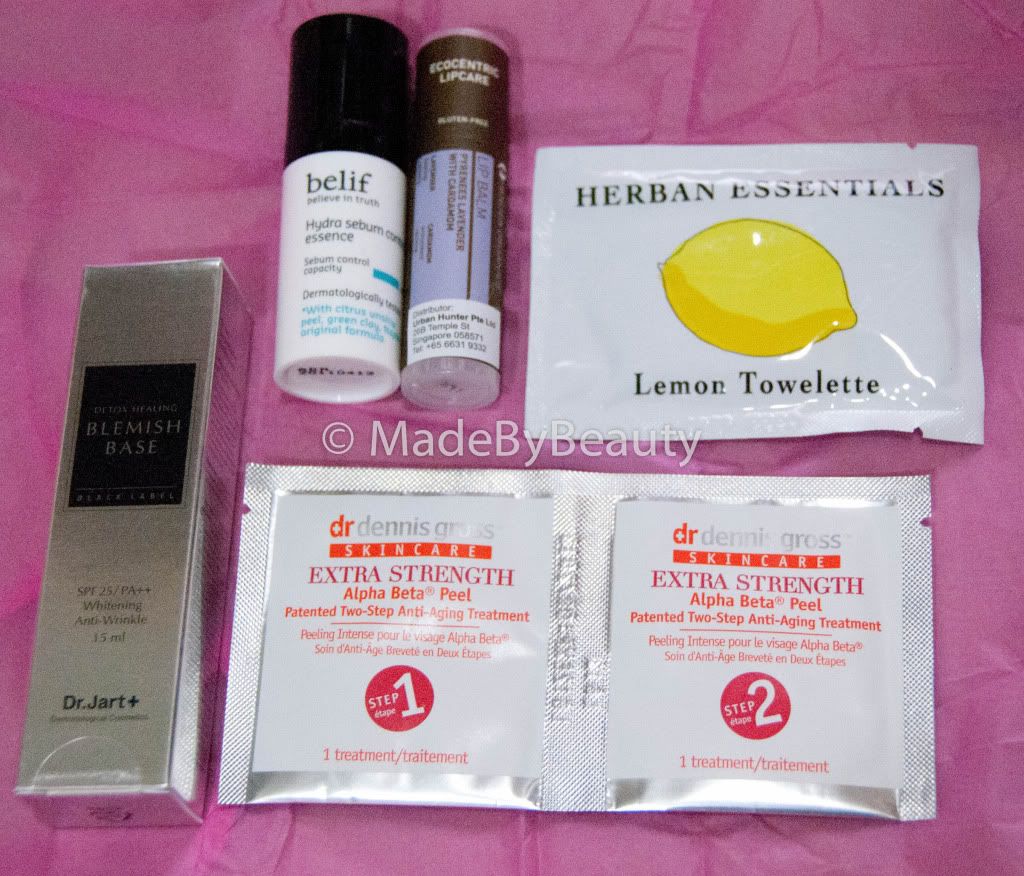 This is a group photo of all the products.
BellaBox
claims that it supplies Luxury Products - Well, not really. But in terms of selection, I personally think BellaBox is more appealing than Glamabox. Plus it's cheaper, you definitely gets more value for $15.
Time for products:
1. Dr Dennis Gross Extra Strengh Alpha Beta Peel, 1 packette, value $7.1
Not many people may heard about this brand. But this peel is their best buy. I was introduced to it by a friend who lives in US - she loves it a lot and promotes it to everyone she knows - sometimes I was wondering whether she got paid to do so... LOL
But I do love it a lot, and was so happy to see it comes in the box =) This peel looks like a peel - but it's actually not! It actually can be used as a peel, toner, and even moisturizer. After these step 1 and step 2, your skin is moisturized enough without any cream/lotion. Of course it would be good to have extra layers of serum and creams, but if you are lazy, these 2 steps are enough to keep your skin look good.
Known from the name that it comes with extra strength, so avoid it if you have sensitive skin. But for me as a combination non-sensitive skin, it has become my holy grail. It's kinda magic, stabilize, kills bacteria, anti-aging, brightens skin, works for blemish and wrinkle... It does almost everything!
If you are interested in the product, maybe a good idea to look at the reviews over
Sephora
. As a revolutionary product, it gets really hight score in Sephora reviews as well!
2. Pangea Organics Lip Balm, value $14.50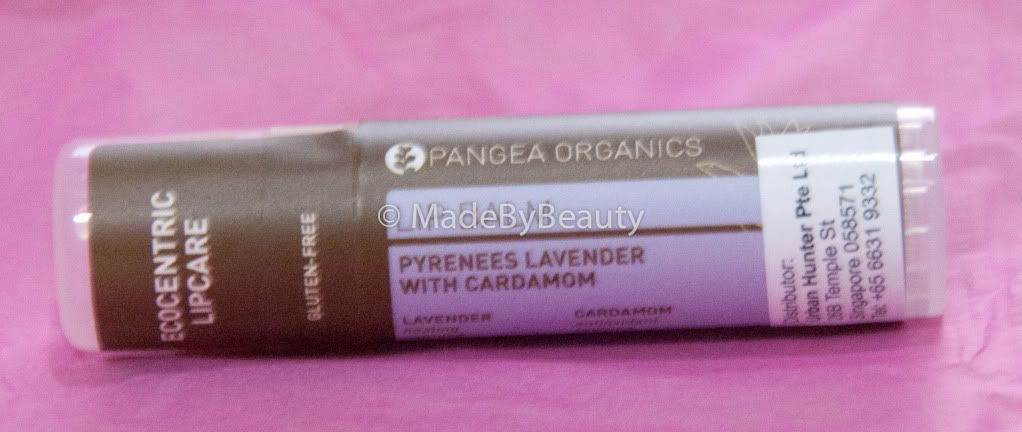 I was first introduced to Pangea Organics brand with its Japanese Matcha Tea Acaigoji Berry Mask. I loved the mask for its cleansing, tightening and brightening effects. So I was quite eager to try this lip balm when I saw the product.
It didn't let me down. A light lavender scent is very lovely (I hate strong smell when it comes to lip balm). Not sticky or messy, absorbs quite fast. It stays for a while but you need to re-apply it during the day if your lip is as dry as mine. I sometimes use it as a primer under my lipsticks and turns out well with a natural glow.
It won't substitute my Fresh Brown Sugar lip balms. As Fresh is more moisturizing. But this is much cheaper than Fresh! =p So if you think Fresh is a bit too expensive, or your lips are not dry type. Pangea Organics is an A+ choice.
3. Dr Jart+ BB Cream, 15ml, value $9.9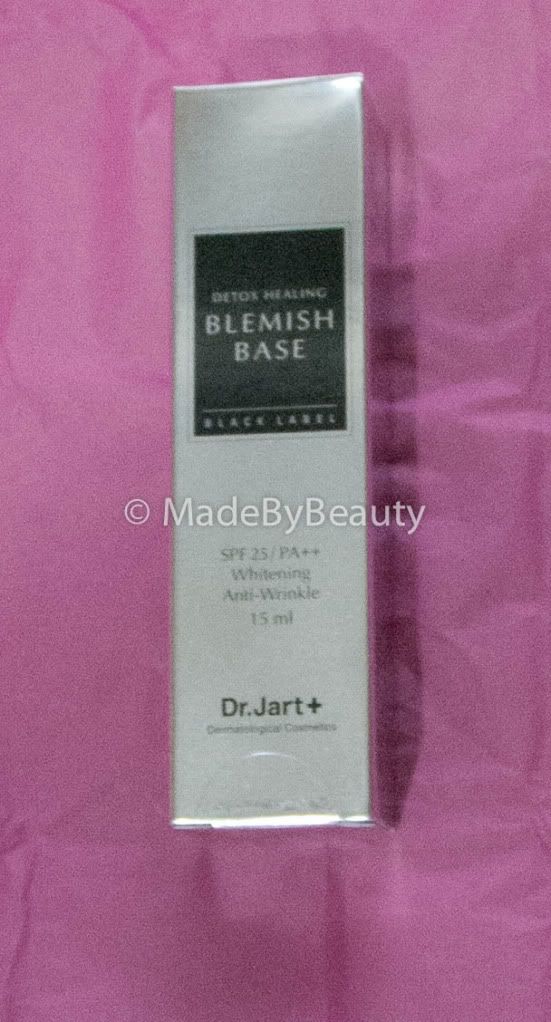 Instead of a BB cream, it feels more like a combination of foundation and sunscreen. It comes with a good medium base coverage so it you are looking for something lighter or heavier, it's not for you. The oil control is not decent enough for my combination skin, so oil-controlling loose powder is a must if you are not dry skin. The packaging says it has whitening effect - don't expect anything from this as it's the most outside layers of your skincare.
4. Herban Essentials Towelette, 1 packette, value $1.8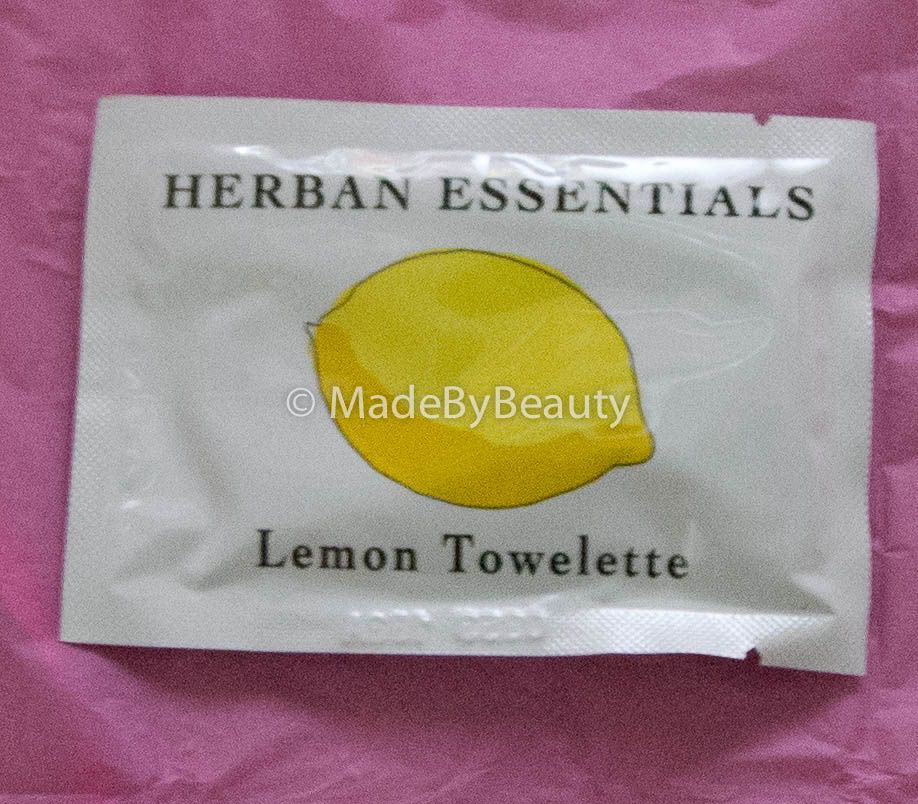 Another American brand. I used a lot of towelettes and this has been the most refreshing among all of them (previously I often buy from Watsons or Guardian when they are on sale). Good that it comes with no chemicals or alcohol. My hands are soft and smells amazing after using it. I love it a lot but the high price make me think twice before ordering.
5. Belif Hydra Sebum Control Essence, 10ml, value $5.7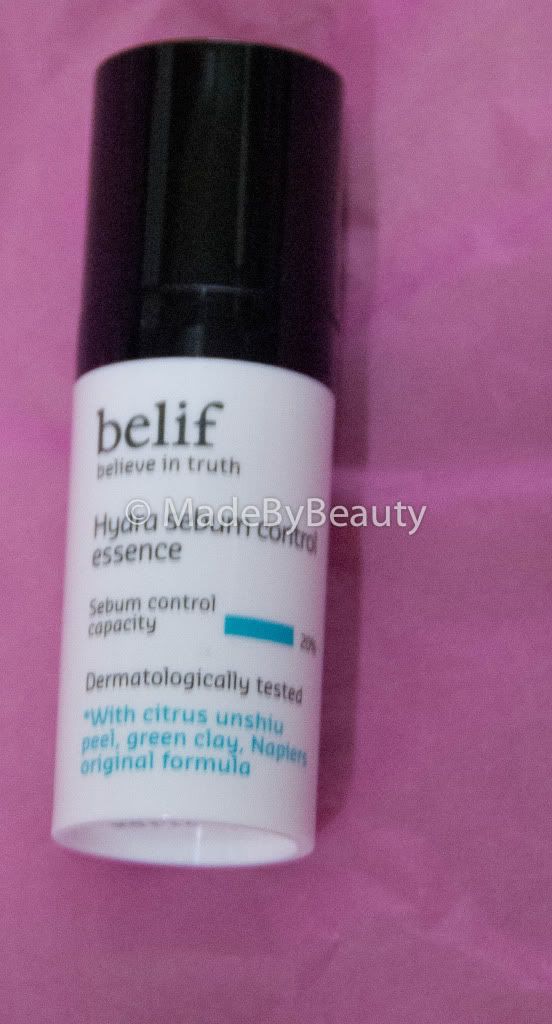 Belif is a Korean brand just introduced to Singapore market. It's my first time using Belif product and I have to say frankly that I don't find any value in it, yet. Maybe because it didn't come with a user manual that I don't really know when to use it. I tried it both under and on top of my day cream, but still find it didn't help with sebum control, especially my T-zone - it even looked worse with excess sebum in the afternoon. Any girls know how it should be used please tell me! Thanks so much!
Conclusion
The products didn't let me down from the long wait. $15 pricing is more worth it than $18 BellaBox. =)
Anything else I don't have the say yet, as it's only their first box I received. I will continue to do reviews of the boxes (will do a review on January Vanity Trove soon) and things will surely become clearer alongside. Keep moving!