One sentence summary: A fine interior beneath a rotten exterior.
They started to included some really lovely products that I would like to use it, like Crabtree & Evelyn hand cream, and Lierac skincare set. But they kept the so-not-outstanding box, with even more rotten packaging this month.
Well I'm not that focused on exterior, so I still love this month's box. And hope that they could carry on with the great job next month.
As usual, I used the products for a while before giving out the following honest reviews. Hope this can be helpful to my readers =)
1. Crabtree & Evelyn Gardeners 60-second Hand Recovery Cream 25g
Per suggested by the name, it's a great product that even heals and hydrates the dry hands of gardeners:) My hands are generally of the normal type, so cannot comment on this part. But I love the creamy yet easy to absorb texture, light and not overwhelming smell. Even my hubby loves it!
2. Clinique Colour Palette: Colour Surge Eye Shadow Duo
This mini palette contains 2 eye shadows and 1 blush color. I don't really like Clinique cosmetics products but this is worth to try out for girls not familiar with Clinique.
The pigmentation is not as fine as some other cosmetics brands - to name a few, Dior, Urban Decay, Nars, and most Japanese brands who produce eye shadows. Colors are not really suitable for not-so-fair Asian Skin. Or maybe because I have a bit dull skintone? Anyway it makes my eyes quite puffy...
3. Lierac Paris Travel Set (Exclusive Ultra Jour Wrinkle-Filling Day Cream 5ml, Exclusive Intense Nuit Wrinkle-filling Night Cream 5ml, and Coherence Intensive Lifting Serum 5ml)
I always have a very good feeling towards Lierac since I had a facial overseas using their products. So I was quite happy to see the set in this box. Though this set is not really suitable for my age - I thought there was a beauty profile for the box so we should be able to receive customized products? ......
Anyway I decided to give the set to my mum and hopefully she loves it. While it might means that I will need to buy more for her. LOL!
4. Organix Moroccan Argan Oil Shampoo 88.7ml
Heard about the brand from my frequent shopping site in the States before, and good to have the chance to try it myself. I love the smell, but would recommend the shampoo to dry hair girls only. I have oily hair and the argan oil made my hair even more shiny oily. Another problem with it is that it lathers not very well. I had to shampoo my hair twice - and made the bottle empties very fast :(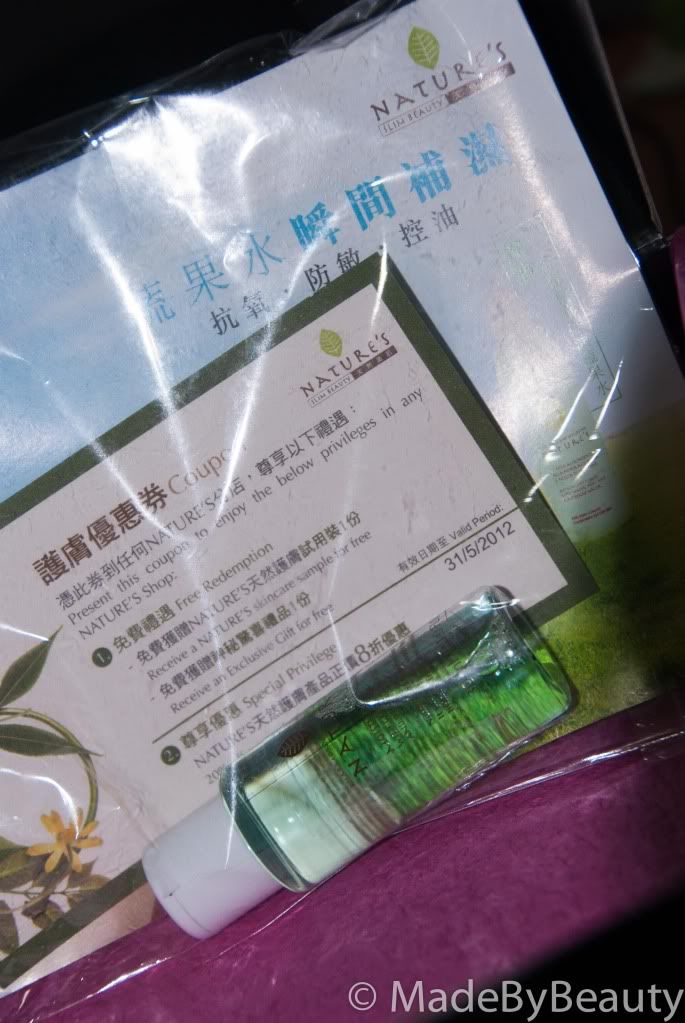 5. Nature's Moisturizing Toner with Green Tea and Orange Water 30ml
They included a voucher but only redeemable in Hong Kong, which is pretty ridiculous since they should know that that were mailing the box to Singapore... I never heard of the brand before and think this is a pretty affordable brand for youngsters. As I tried the toner and find it didn't provide much moisture or nutrition in it. Since it's not available in Singapore as well, I'm not going to recommend the product...
That's it for March's box. Good to see that Glamabox is improving their product selection and quality. But it would be even better if they could allocate the samples according to the beauty profiles we filled in. So that I might be able to receive some skincare samples for my age not my mum's age, and hair sampler for my oily hair.
xoxo,
Tanya.