Sorry for being so late... As my troves were messed up, and I only got them sorted out 10 days ago... This was a long story, and made me almost lost confidence with Vanity Trove... Anyway, I ordered two troves from them this month as there were two versions, then when I received them I found out they were exactly the same and one of them even got spilt bottles etc. Sent quite several emails before they finally replied and gave me exchanges after two weeks... I was happy with the box content though...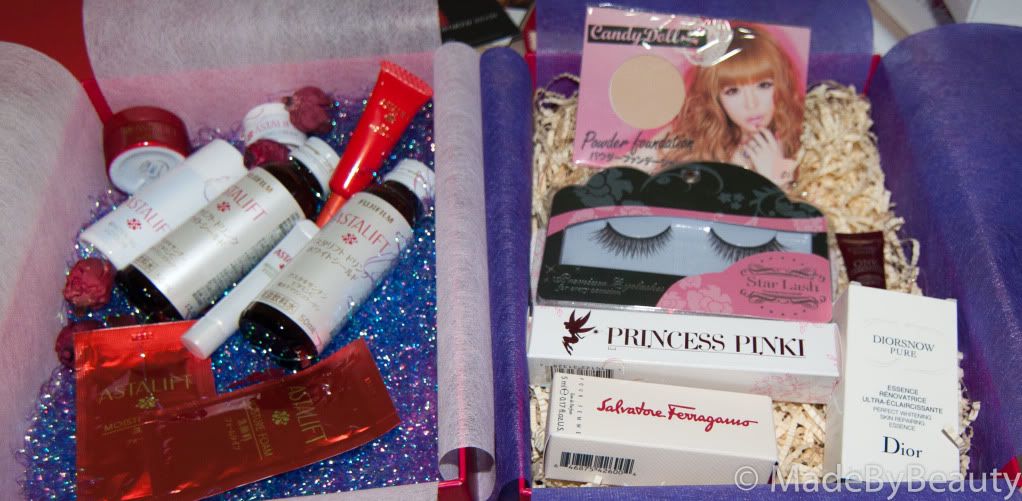 These are the two boxes I got in the end. A Go for Glow box featuring Astalift and a Brighten Up box which is the normal thing you get every month - a few samples from different brands.
Where this was the spilt box I received first. (no protection material inside... that must be the reason...)
I'll share about the
Astalift
stuffs first as I've been a user for more than a year and happy to seem them coming into Singapore finally =)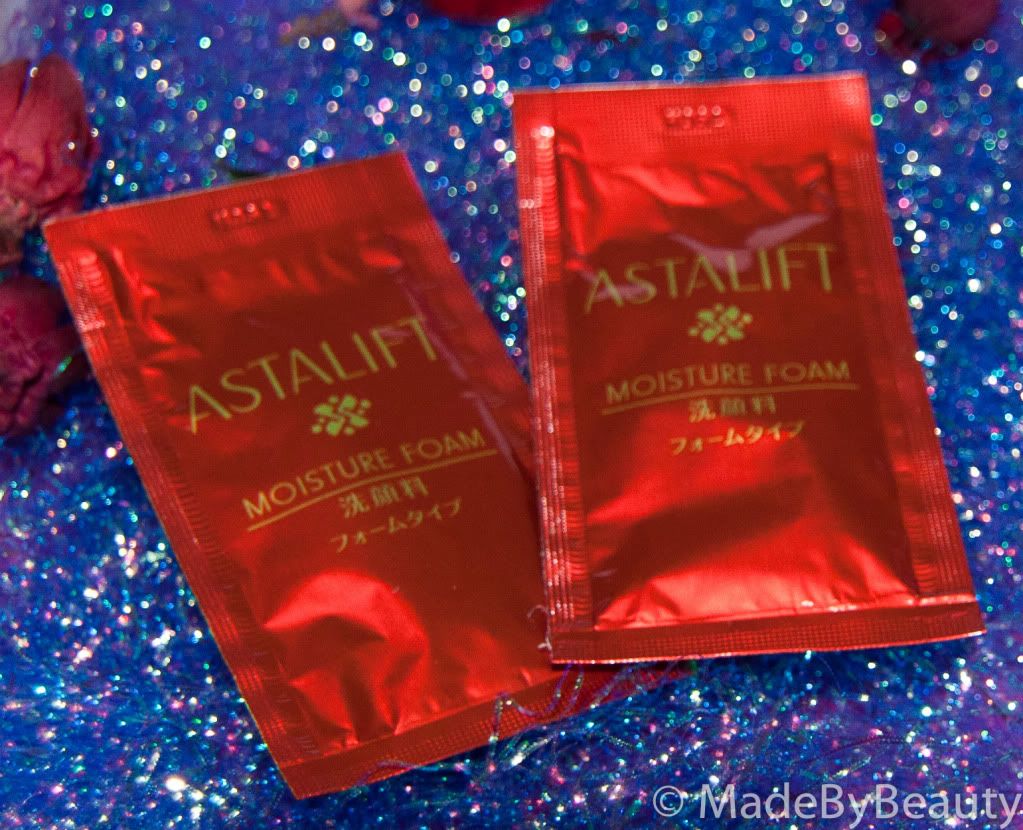 1. Moisture Foam
A lot of Jap foam cleansers are famous for their ability of lathering, so does this Moisture Foam. They do sell a foaming puff at their store, which you need to use it to lather, and it takes time. This is not my favorite product as I need everything to be fast - this can be a luxury treat if you have the time.
Cleansing wise, it's gentle yet cleanses thoroughly. A good cleanser for both dry or oily skin.
2. White Shield Drink
My first time to try this. The flavor is a bit too sour to me. Couldn't tell the effect with just two bottles - but because of the flavor, I would still prefer Fancl whitening drink which is about the same price as this.
3. Day Protector SPF 25 PA++
The protection is not enough for me. So I just tried it but didn't really wear it outdoor. It's a bit moisturizing yet oily. I guess dry skin girls would love it but for combination me, I would prefer my HG Clarins UV Plus for a matte finish.
4. Jelly Aquarysta
This is my favorite and also the product I've been using for a year! It's a pre-toner serum that you need to use immediately after cleanser and before everything else. With this you will find that absorption of the following products are much easier and faster. Skin become brighter and tighter as well! Comparable products are Sulwhasoo First Care Serum and Janson Beckett Skin Prep. I prefer this among all for its amazing rose nose and lightest weight among all of them.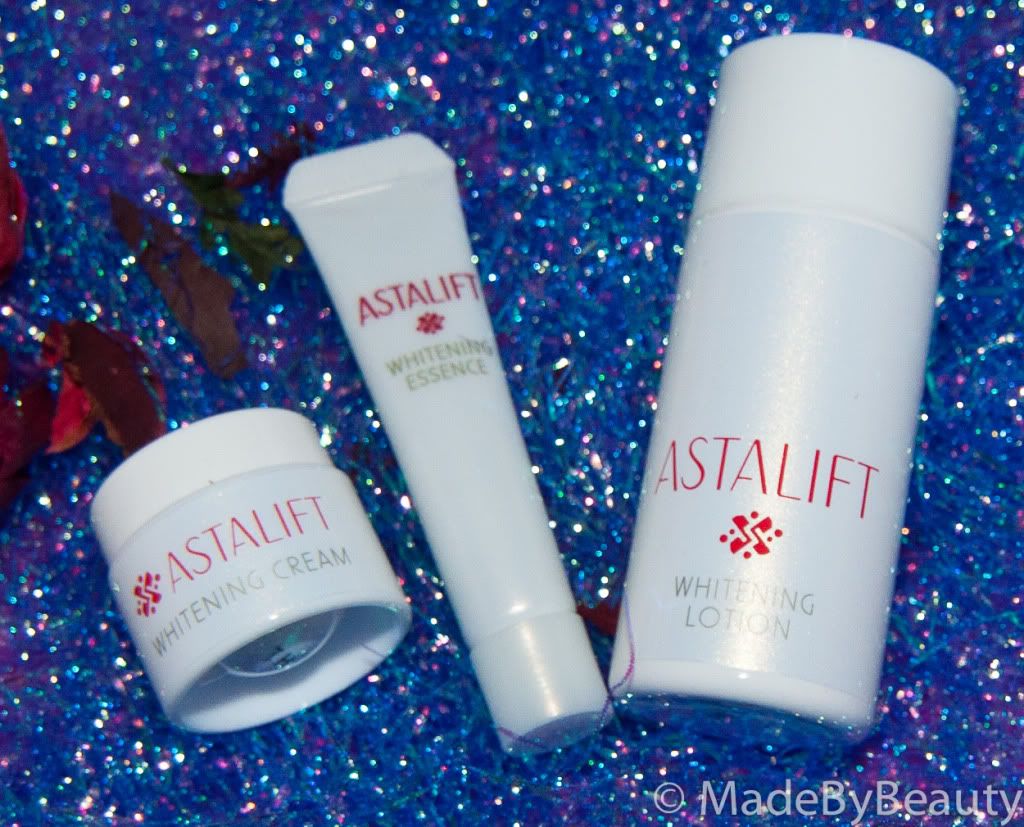 5. Whitening Lotion
Japanese brands offer lotions instead of toners. Difference being - Toners are more for 2nd level of cleansing purpose and apply with cotton pads, while lotions are more for 1st level of moisturizing purpose and apply with palms. This whitening lotion is super moisturizing - I need to pat it into my skin using my palms otherwise my skin couldn't absorb it! Strongly recommend it to dry skin girls!
6. Whitening Essence
I'm a 5-5 to this essence as it really made my skin brighter but too heavy for my skin. I got a breakout because of this (I think so, or the whitening cream? As I used them two together.) Guess most of Astalift products are suitable more for dryer skin girls, or you need a lot of patience to wait for the products to be pat/rub in...
7. Whitening Cream
My atitude to this is the same as to the Whitening Essence. I might just stick with my Jelly Aquarysta and not getting anything else for the time being...
And next up is the
Brighten Up
box...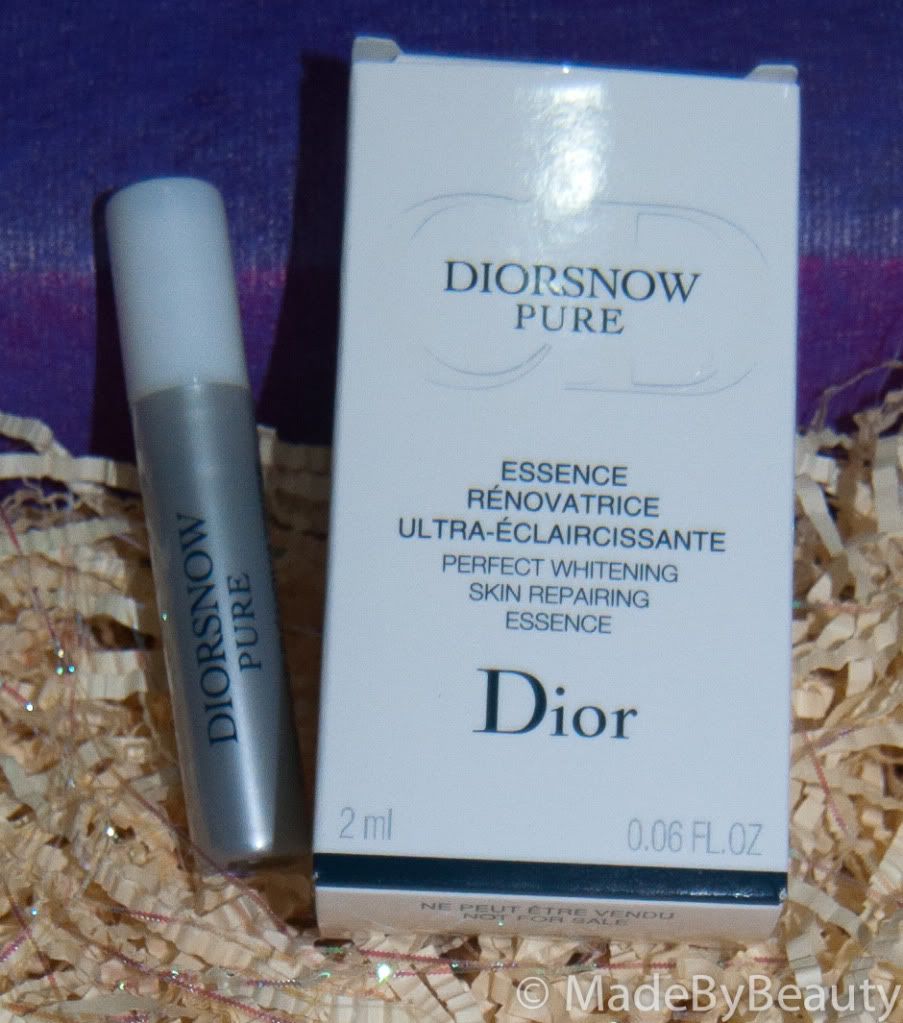 1. Dior Snow Trial Set
Not sure why but what I got is different from what pictured in the product sheet. Over there it shows an eye treatment and a sun block. But I only got one essence - which I don't mind as I love Dior Snow essence. I used to be a user few years ago and find it effective which my spots. I only stopped it after I felt more need to brighten up my whole face - love to see it again here!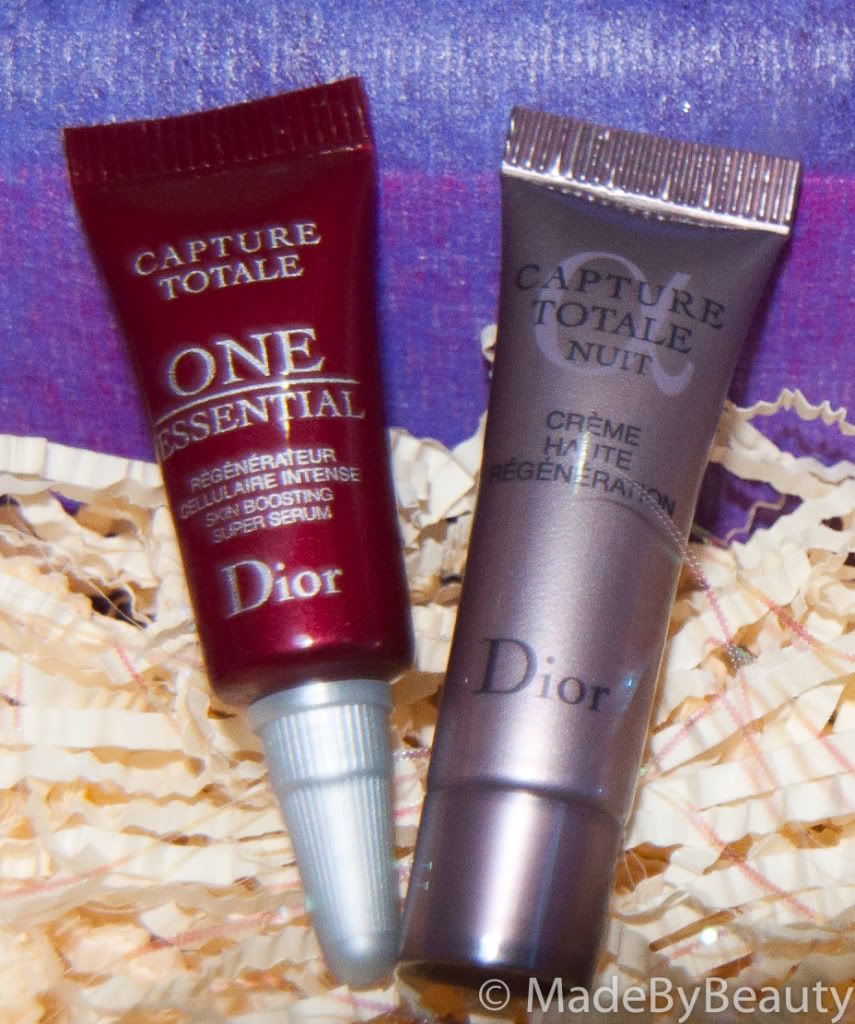 2. Dior Capture Totale Trial Set
Again I received different stuff from what pictured - 2 products instead of 1. While I feel that the creme is still a bit too heavy for me, I love the essence a lot. It makes my face tighter (might be sycho effect?!), yet not too oily to absorb. Will definitely get it next time shopping for skincare.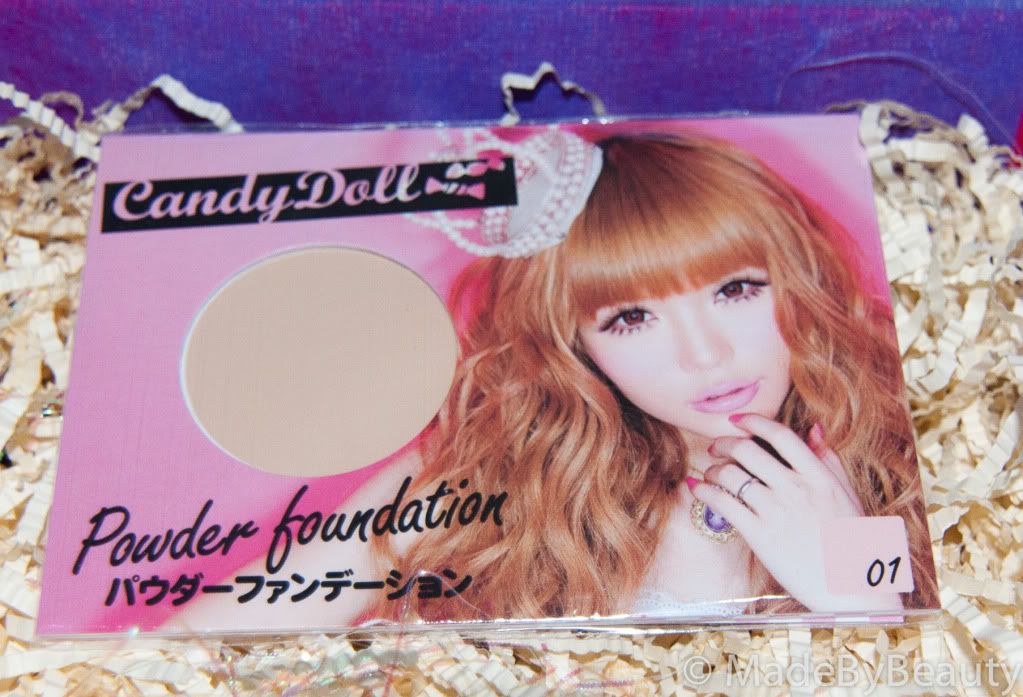 3. CandyDoll Powder Foundation, Liquid Foundation and Makeup Base
This is interesting. I got powder in #01 (too pale), Liquid in #02 (too yellow) and Base in #01 (too pink for me). But when I apply all 3 of them in my face, they magically mix together to match my skintone perfectly....
It's a fun experience but I won't purchase them. Reasons are: they bring a heavy make-up trace on face, where as I seek after a natural glow; There's no single product fits my skintone; They don't control facial oil well.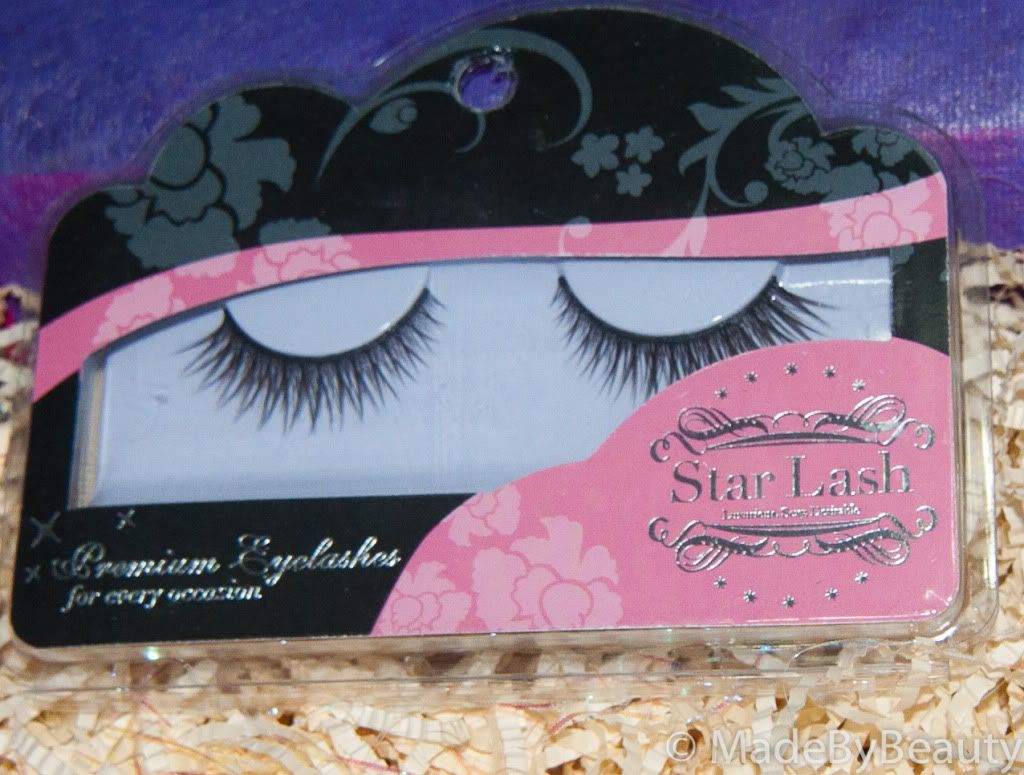 4. Star Lash Eyelash Set
I like the shape. But the lash bone is too hard and my eyes getting painful immediately after applying... A no-no for me...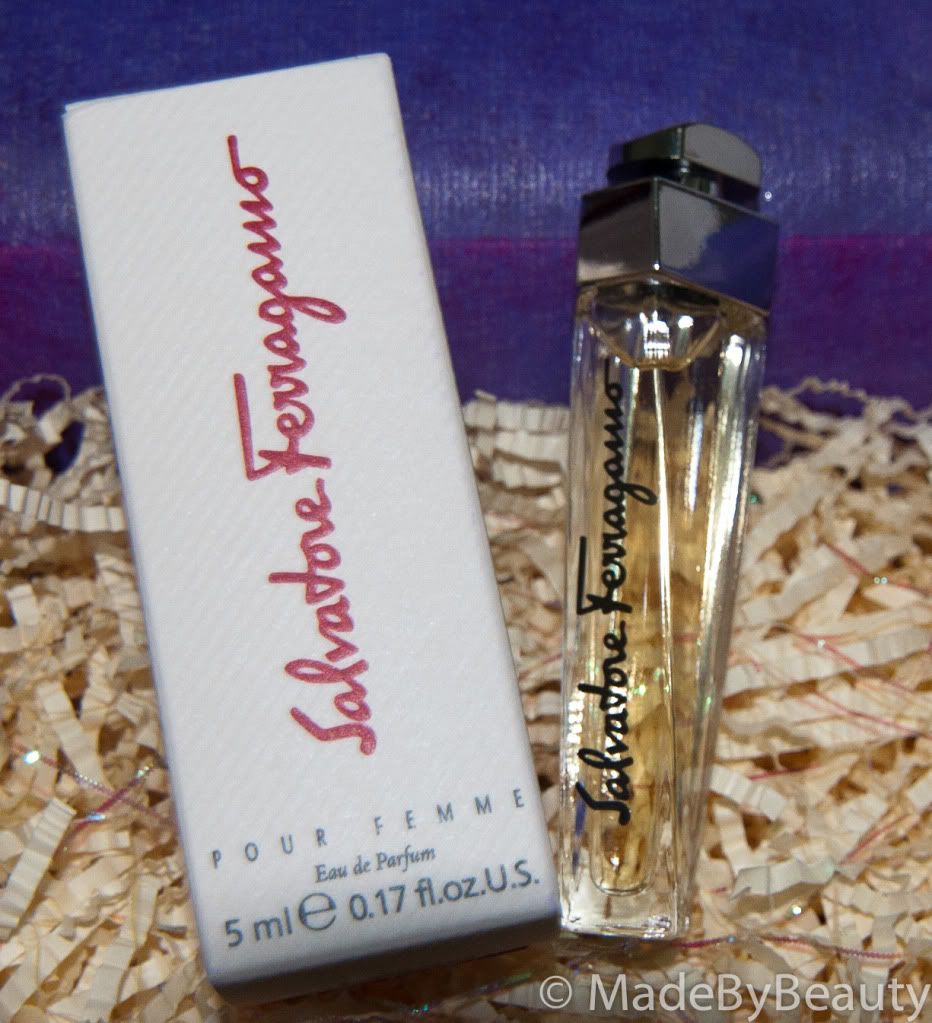 5. Ferragamo Pour Femme
Happy to get another Q fragrance into my collection! Parfumes are pretty subjective but I love this elegant, light floral femme smell.
6. Princess Pinki
The product suppose to give you a natural pink flush over lips and cheeks over time with frequent use. Nice concept. I dabbed a little bit on my hand first in case anything happens - and this is the result: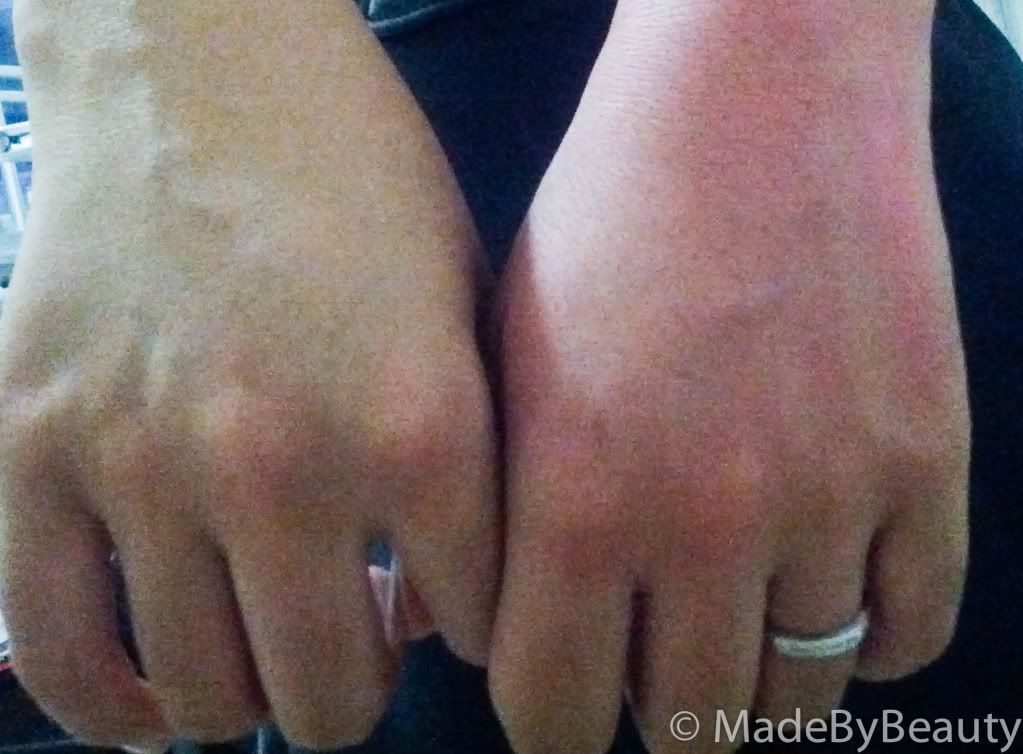 Obviously my left hand got redness all over. The photo was taken on the second day after I tried it, when I felt burning hot and itchy. In the end I had to visit doctor and spent $50+ to get myself healed.
It might be just allergy, but I suggest you girls do a test before applying it on face - imagine you face gets burnt and itchy? That's the most horrible thing I could imagine in skincare world!
-------------------------------------------
That's all for my Mar Vanity Troves. Though some unhappy bits, I'm still good with the overall quality of the samples. Much better from last month. Keep the good work!
xoxo,
Tanya