From Jun onwards, I'm only subscribed to 2 beauty sampler programs locally - BellaBox and Vanity Trove. They remain on my list for:
1. Good product selection
2. Reasonable price
3. Better customer service (than Glamabox)
Between the two, I wouldn't say the BellaBox is better based on previous few month's boxes. They used to disappoint me but surprised me sometimes as well. However, BellaBox did extraordinary well in June and if they keep up with the good work, I would even forgive them for raising the price (from $15 to $19.95). But still, let's wait and see.
Here is the June box I received. They are all familiar faces :)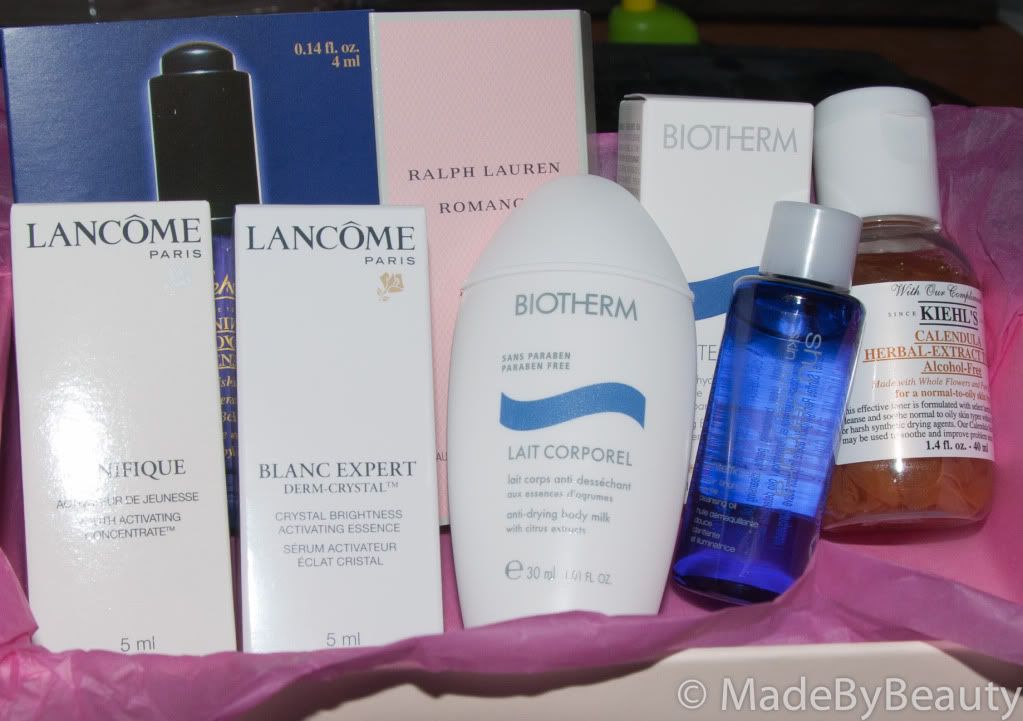 I didn't test any of the products - because none of them is stranger to me. I've tried/used all of them previously and some are still in my daily routine now. Will just list out the products and provide my comments.
1. Kiehl's Calendula Herbal Extract Toner
I love the toner a lot and currently on my 4th (or 5th?) 500ml bottle. I face computer at least 12 hours a day and this made my face a bit yellowish - Calendula toner is one of my best fix to the problem. Don't use it as normal toner otherwise it won't help much. I would use it for facial masks instead, soak enough toner with the mask paper and apply it on your face for 10-15 mins, if you happen to desire some more extensive treatment, apply another layer of Aloe Vera Gel on top of the mask. Do it everyday for 3-4 days and you'll realize that the yellowish has disappeared totally! Amazing product that I would use every fortnightly to maintain the result! =)
2. Kiehl's Midnight Recovery Concentrate
A must buy from Kiehl's. I was given some samples (same as included in June Bellabox) last year when it first launched in US. After tried only 1 of them, I went immediately to local shop and bought 2 full sizes. =) Well, it did a magic on my face overnight. I was in my period and having some breakouts. I normally would avoid oil products during period but didn't know why I decided to give it a try. With just 4 drops, my breakouts were calmed down the next morning and my face has become much softer and glowy. I haven't opened my full size bottles yet as I need to finish many other serums first. But this is always in my travel bag and I'm bringing this out in the coming trip as well =)
3. Lancome Genifique Youth Activitor
If you want to use it as a serum, then it probably would disappoint you. But if you use it as a base and layer other serums on top of it, you will probably find the other serum performed better than you expected. I didn't buy it but got a lot of samples from various Lancome promotions. I would recommend this to more matured ladies - young ladies I think a sample will be good for occasional use.
4. Lancome Blanc Expert Dream-Crystal
I used quite a few samples of it and add up to be about half a full size. As a whitening product, my face didn't turn even a little bit fairer. Well...
5. Biotherm White D-Tox BB Cream
Didn't really tried it as it caused me breakout almost immediately after application. I would not recommend it to sensitive girls - because I'm not so sensitive...
6. Biotherm Lait Corporel Body Moisturizer
A bit greasy, but still acceptable if you sit in aircon room everyday. Otherwise go for a lighter body moisturizer. =)
7. Ralph Lauren Romance
I always think that perfume is a very personal thing. We need a different perfume for different personality, occasion, mood, and even apparels/outfits. However, you could hardly go wrong with Romance. It's a light floral/woody mix, but with a long lasting holding power. Easy to mix with other fragrance if you want, since it's never overwhelming. My first bottle of Romance was bought almost 10 years ago when I first started to wear perfume. Till now I still love it and receive compliments from other when wearing it. =)
8. Shu Uemura White Efficient Gentle Cleansing Oil
I love most makeups from Shu Uemura but not their Cleansing Oil. I know that it's renowned and famous for various reasons, and I tried different formula of their cleansing oil over the past 10 years - sadly none of them worked for me - all caused clogged pores and breakouts... Girls who easily got clogged pores may want to test it at the side of your face first, otherwise it will really become a disaster...
That's all I received from June box. I'm happy enough with this box and would be great if they could provide similar quality when the new, higher price tag at $19.95...