Vanity Trove has provided a quite stable quality throughout my whole subscription. Never disappointed at them, but not much surprise as well. Jun trove still followed their tradition, and here's what I received.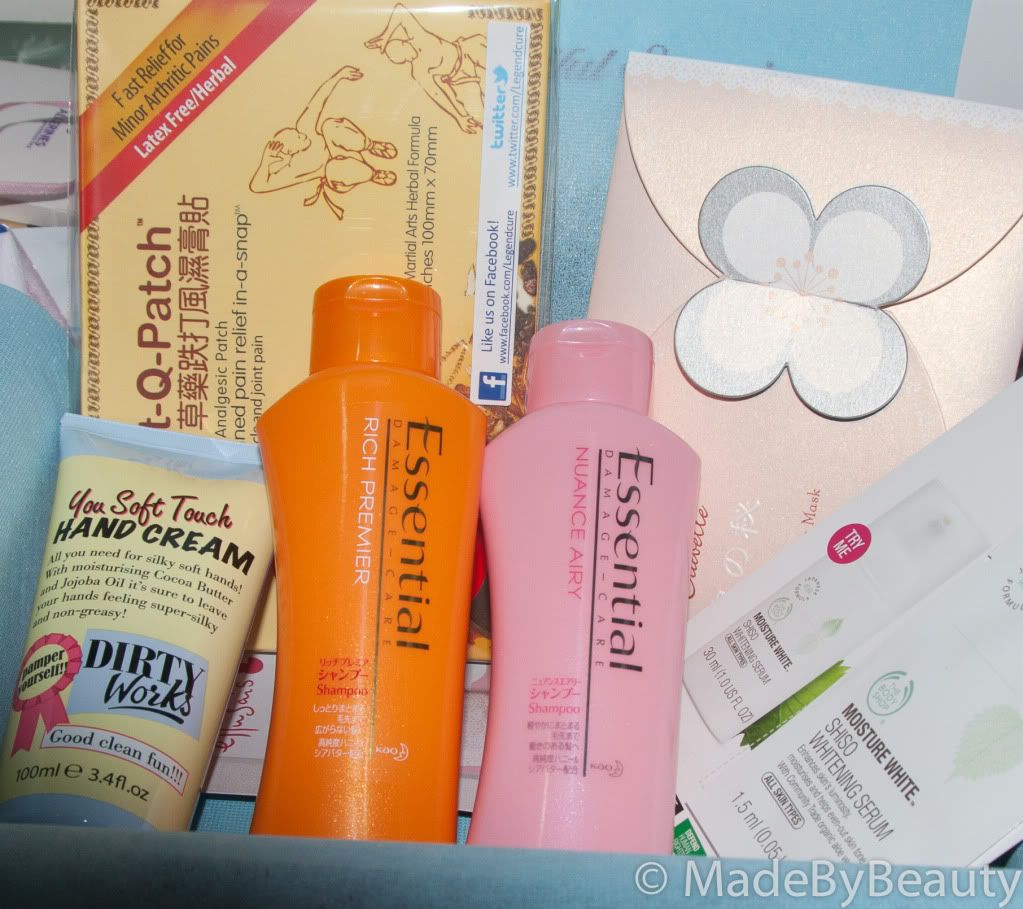 1. Essentials Damage Care Shampoo (Rich Premiere, and Nuanced Airy)
Have tried different Essentials shampoo from different sources and my hair always looks smoother after each wash. Though, I really hate the strong smell (they claim a flower smell)...
2. Erabelle Woven Silk Face Mask
I love the texture of the mask, silky smooth and feels more comfortable than My Beauty Diary or other Taiwanese masks. They have enough essence to last for a 15-min mask application, but no longer than that (MBD could last me for 25 mins). Since I didn't really see a significant improvement on my face from the mask application, I think I won't splurge on the mask as it comes with a big price mark...
3. Dirty Works "You Soft Touch" Hand Creme
Another touch of Dirty Works product. I still love its retro packaging but again not amazed by the hand creme itself - didn't give me enough moisturizing during my outback trip, luckily I brought my Clarins as well. But I think that it should be good enough to use in Singapore's humid weather =)
4. Ettusais BB Cream
Love it! Easy to blend in (just like your day cream), matches my skintone exactly (I normally use 2nd fair foundation with pink or neutral undertone), provides sufficient oil-control (my forehead was not oily at all after 8 hours application), and provides sun protection as well (SPF 25). Will probably purchase the full size, provided I could finish my existing foundations first... (I still have 2 bottles Giorgio Armani un-opened, 1 bottle Gurelain, 1 bottle CPB and a lot deluxe samples from different brands...)
5. The Body Shop Shiso Leaf Whitening Cream
There was only a sachet of the cream provided in the box so I didn't really get to test the product... only feeling I got from the sachet was that the cream flakes off...
6. Act-Q-Patch
In Chinese it's 跌打风湿膏贴, which is a traditional medical pain relief patch =) I gave it to my father-in-law who has back pain problem and he says it's good!
7. Enavose Essencious Invisible Sunbrella UV Mist SPF 45
Girls who read my previous blogs might know that I don't have a good impression of the Enavose brand as they 'fake' their origin to be Switzerland though they are a local born company. But this product looks really great to me - thing of it, a UV Mist that you can apply any time during the day even on top of your makeup? Amazing!
June Vanity Trove theme was Best Friends Summer, and I loved the product selection, as they match the trove theme, and gave me a hot summer feeling. I've received their July trove as well and was happy to see more improvements they made, stay tuned and I'll blog about it soon! =)