May Bellabox was an interesting one. They used a recycle pouch to instead of the usual pink box, which is my favorite this month - a breeze from all the piled-up boxes from different beauty sampler program! LOL.
In terms of brand selection, they still included the 'fake' Swiss brand Enavose, but make it up with some other lovely brands like Elizabeth Arden and Dirty Works.
And here's everything I received.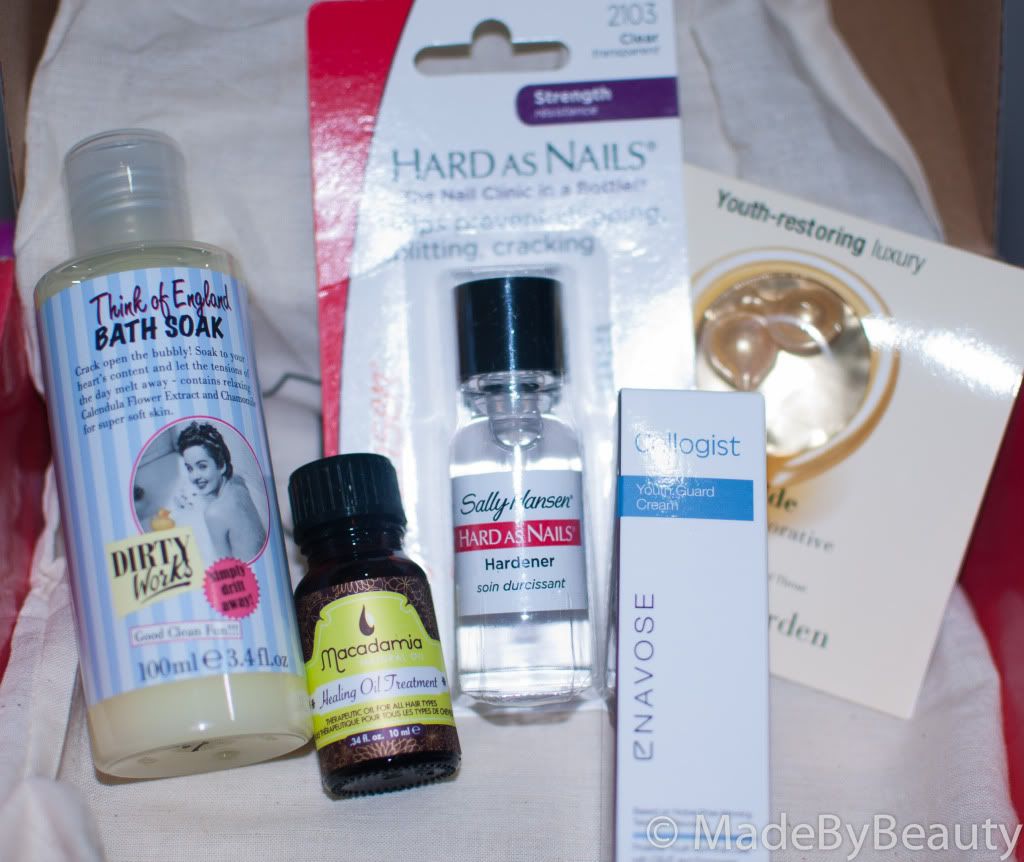 1. Enavose Cellogist Youth Guard Cream
As I said previously, I have no trust to brands who market themselves to be from a different country from their origination. So I tried the product with a lot of question marks. Surprisingly this particular product is up to my standard, with a nice smell, not too thick yet still moisturizes enough, blends well into skin and keeps my skin hydrated for quite a while - but not too long, my skin became too much oily in the afternoon after 4 hours application. So I guess this will be a great choice for dryer and more matured skins. Girls with oily skins please keep a distance from it, anyway Singapore is too hot for such a rich cream.
2. Elizabeth Arden Ceramide Gold Ultra Restorative Capsules
Interestingly that there were only 2 capsules in the sample - I really wonder any difference will be made with only 2 applications... Luckily the capsule is my mum's favorite for decades so I could still say something about it... It's oily, yet absorbs very well (within 30 seconds in Singapore's hot & humid weather). It's an intense treatment, that my skin became visibly plumper and pore-less the next morning. Girls below 30 can use it as a treatment every few days, and daily in dose is recommended for more matured skins. My mum's holy grail for decades and she just kept repurchasing it! =)
3. Dirty Works All of a Lather Body Wash
My 2nd try to the Dirty Works label. This body wash comes in a translucent blue color that reminds me of something you use for the toilet... not a nice one... But the smell is not bad, a bit artificial, but still considered clean and fresh, lemon-ish smell that my hubby enjoys as well. The cleansing power is up to standard, but leaves no other additional benefits. I would be happy to receive this as a gift but will definitely not repurchasing it with my own money.
4. Macadamia Natural Oil
I love this oil a lot! It comes with an Indian smell in a good way (if you know what I mean keke...). I would use a few drops on my damaged ends and it instantly becomes soft, shiny which could even last me for a whole day! I would definitely get a full size after finishing this sample, but not locally (30ml for SG$28),
Amazon
sells it at over 70% cheaper (120ml for US$18.95)!
5. Sally Hansen Hard as Nails
I don't really need a hardener for my nails (they are naturally hard). But I still gave it a try as a clear base which helped my nail polishes lasted longer. Again I'm not going to buy it but don't mind of receiving it as a gift again =)