Vanity Trove May is a limited edition Mother's Day box which is only offered via gifting for $35 (normal boxes via subscription are $25). The box comes with a 45-mins facial treatment (for two) and some samples.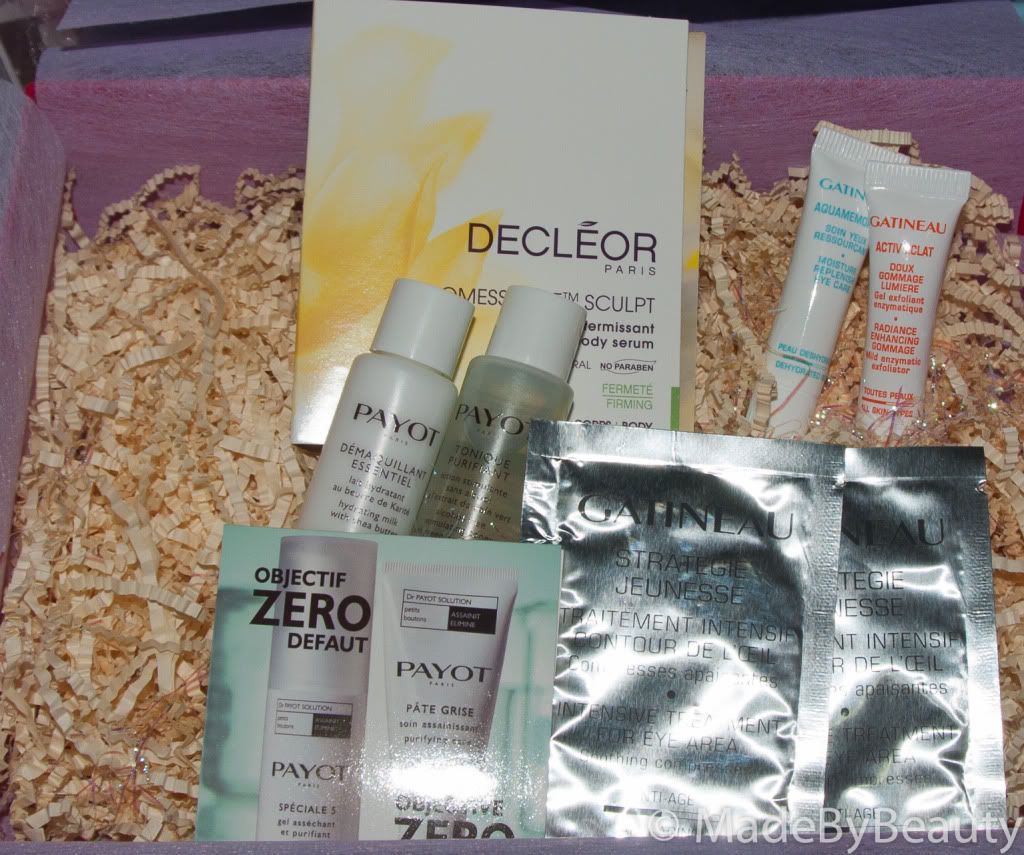 For the facial treatment, I had choices among Decleor, Payot and Gatineau. I went to the facial treatment with my bestie Silvia as my mom was not in town and chose Decleor because Silvia was a loyal customer of the brand. =)
Located in Raffles Hotel, Decleor Institut offered a classy sense of luxury, with a hint of professionalism from the neat display shelves and machines. We were agreed with ginger tea upon arrival and then lead to the machine station to get our skin examined -yay my skin condition was great but Silvia's was a bit dry and with some wrinkles... But great that Decleor therapists customized our treatment according to our skin needs and we both looked great after the treatment! =)
The treatment itself was enjoyable, with a lot of massage techniques used. Cleanse - tone - two layers of aroma oils - moisturize, and that's all. I love the gentle massages applied on my face throughout the whole session but I would prefer some extraction to get rid of my black heads... (Well the staff there said that they don't use extraction...) In the end we were offered some tea again and a brief introduction to their packages. Honestly speaking their packages are quite worthy, $160 for both face and eye treatment include an additional step for masks, we would have purchased the package only if they do offer extraction - too bad...
Talking about the product samples given, I got the following items. I didn't really try them all so will only review those I've tried.
1. Decleor Aromessence Sculpt Firming Body Serum 5ml - I tried it immediately the very night I saw it as I was doing self 'Gua Sha' treatment (刮痧 in Mandarin) on my legs and was in search for a good body oil/serum to use in the treatment. This serum was exactly what I wanted - a bit oily to make my skin smoother yet not too rich to block my Gua Sha board's movement. My legs were firmed from the whole treatment (not only the serum's effort though), and is 1cm slimmer with a month's Gua Sha with this serum. I'll definitely purchase a full size of this serum! =)
2. Payot Objective Zero Default Flawless Skin Night - Time Duo 2x1ml
3. Payot Stimulating Toner with Green Coffee Extract 10ml
4. Payot Hydrating Milk with Shea Butter 10ml
5. Gatineau Intensive Treatment for Eye Area 2 sachets - This is the collagen eye pads that can be used to save the under eye dryness. I used to use similar products from cheaper Taiwanese brands but this one is definitely much better as not only it instantly saves my dehydrated lines but also lasted me for a few days before my eyes are dehydrated again. I will probably purchase the full size as I'm a bit concerned with the price tag... =p
6. Gatineau Aquamemory Moisture Replenish Eye Care 3ml
7. Gatineau Activ Eclat Radiance Enhancing Gommage Mild Enzymatic Exfoliator 3ml - This is one of the greatest exfolicators I've ever used. Not irritating at all, it doesn't even left a single redness on my skin, but only glowing face. From the tube you will get gels to apply on your face, rub or leave it till it turns to liquid then you will know that you're done, just so simple! I will purchase this definitely, but have to finish my Clarins gentle refiner first - I still have 4 in my stash :(
Loved the May box a lot for introducing the great Decleor treatment and more insider samples to these French brands. This is exactly what I wanted to get from all beauty sampler programs - get to try before make any purchase. =)